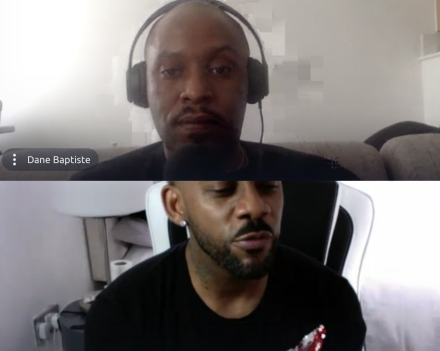 Dane Baptiste and Richard Blackwood have discussed the recent mix-up when a production company sent Baptiste a picture of Blackwood to approve for a press run.
The conversation will form part of the next edition of the podcast Dane Baptiste Questions Everything that will be available on Monday, July 20.
Baptiste tweeted the news: "WE'VE KEPT THIS UNDER WRAPS UNTIL NOW! COMING MONDAY ON @DBQEPodcast AVAILABLE ON @acast @ApplePodcasts & ANYWHERE YOU POD,@DaneBaptweets & @TheHowardCohen WELCOME THE LEGENDARY @RB_Official TO TALK YOU KNOW WHAT! AND MORE!"
After Baptiste received the picture earlier this week he tweeted: "This just in: Tv production company just sent me press shots of myself to approve before they start the press run. This is the picture the sent ME of ME. I swear on my mother's soul they sent it. #DiversityandInclusion indeed #BlackLivesMatter"
His tweet received over 18,000 likes and over three thousand retweets. Actor Noel Clarke, who recently drew attention to the fact that he was absent from a film poster despite his name being featured, replied: "Bro!! I wanna say this isn't real. But sadly I know it is. It never ends. #BLM"
After the incident the production company that sent a picture of Richard Blackwood in error apologised.
Deadline reported that a spokesperson for production company Monkey Kingdom said: "We are sincerely sorry for our error, which was deeply offensive and inexcusable. As a production company, we are very proud of our work contributing to greater diversity on screen and behind the camera, and know that today we have unintentionally undermined important and much needed progress.
We have apologised privately to Dane and Richard. We have also committed to redouble our efforts to be a production company that upholds the highest standards of inclusivity."
Baptiste added on Twitter: "This is not funny, but I swear by all that is divine That this isn't a joke. This is why representation matters. B/C if you've only seen Richard and Lenny over 40 years, how would you know British comedy industry; give me my respect. It's embarrassing now." He later added: "I meant this IS funny".
Listen to Dane Baptiste Questions Everything here.