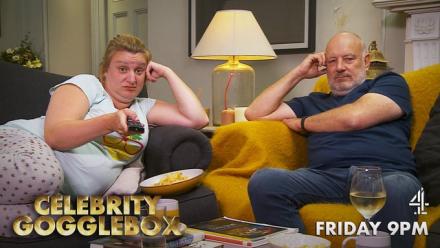 This Country star Daisy May Cooper is to appear on Celebrity Gogglebox alongside her father Paul.
Anyone who has seen Daisy May Cooper being interviewed will know that she is just as funny out of character as she is in character. Listen to her on this podcast in which she discusses her parenting techniques to see what we mean. 
Her appearance on the C4 show also references a famous scene in her BBC mockumentary This Country when her character Kerry tried to get her head around the concept of Gogglebox: "This is mental because they are watching TV and I'm watching them watch TV. And whoever's watching this is watching me watching them watch TV..."
Watch the clip mentioned here below. It has not been revealed if Daisy May Cooper will be watching an episode of This Country on Celebrity Gogglebox, but it would be fun if she did.
Celebrity Gogglebox, Friday, July 10, 9pm, C4. Watch on catch-up here.