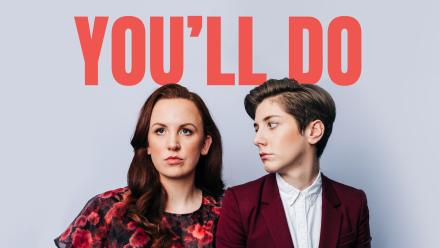 Catherine Bohart and Sarah Keyworth are to launch a brand new weekly online comedy show called 'Gigless'.
The first show goes live this Thursday 9th July at 8pm, with a debut line-up of Ivo Graham, Lou Sanders, Helen Bauer, and Charlie George, alongside Bohart & Keyworth acting as co-hosts.
The pair wanted to launch the night as an opportunity to create some work for comedians who have been 'Gigless' over the last four months, as well as carry on the success of their Instagram live streams where they originally announced the new show.
Speaking about the new venture, Catherine Bohart said, "Sarah and I realise that  live comedy might not be back for a while, and although at first we had to stare at our walls and eat a lot of ice cream, we've now moved through that phase of denial and are excited to launch 'Gigless'. We're really keen to create a space where comedians can come and try new stuff; have a friendly audience, and also specifically try material about the current situation as comedy spaces catch up with this moment in time. We're pumped to entertain from our flat!" 
Starting this week, Gigless will run every Thursday at 8pm with future guests including Deborah Frances-White, Fern Brady, Sophie Duker, Eleanor Tiernan, Jess Fostekew, Olga Koch, and Nigel Ng. Tickets are £3 to watch the live stream or just £5 to join the live in-Zoom audience, available here: https://www.tickettailor.com/events/gigless
Note: Picture comes from their Radio 4 podcast about relationships, You'll Do. Listen here.