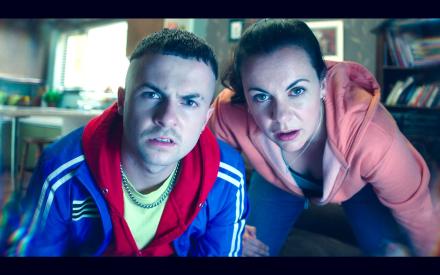 Irish comedy The Young Offenders will return to BBC Three on Sunday 19 July for a third series. The series will also air on BBC One on Fridays at 9.30pm from 24 July.
Created by Peter Foott and produced by Vico Films, The Young Offenders tells the coming of age adventures of Conor (Alex Murphy) & Jock (Chris Walley) and their mother/guardian Mairéad (Hilary Rose) as she tries to keep them on the straight and narrow. Set in Cork, Ireland, the best friends continue to navigate their awkward teenage years as they hatch plans to help distract from their tough home lives, work on sustaining their relationships and try to care for the newest family member, baby Star.  
The Young Offenders was one of the top overall shows for BBC Three last year for both 16-34 year olds and all adults. The first two series plus last year's Christmas special now have over 25 million requests on iPlayer.
The Young Offenders has been commissioned for BBC Three by Fiona Campbell, Controller of BBC Three, Shane Allen, Controller of BBC Comedy Commissioning and Alex Moody, BBC Comedy Commissioning. The Commissioner for the BBC is Ben Caudell. The Executive Producers for Vico Films are Peter Foott and Martina Niland, the Producer is Tim Whitby.
Picture: BBC Three
Watch The Young Offenders Trailer below