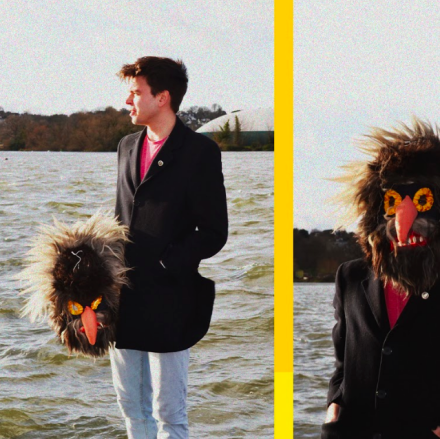 Comedian, actor and writer Joz Norris has declared there's 'no room for zoom' by choosing to transform his cancelled 2020 Edinburgh Fringe show's planned live format into a feature film. 
Following the huge impact coronavirus has had on live comedy, with widespread cancellations of much-loved gigs and comedy festivals for the foreseeable future, Norris has gone back to the building blocks of his new show 'You Build The Thing You Think You Are' to offer audiences a new online experience. 
Intensified and repurposed during lockdown, You Build The Thing You Think You Are is an absurdist storytelling show about how we construct ourselves, about the accumulation of rubbish both in our heads and in our homes, about feeling more at home in your mind than in your body, and about the struggle to ever share any of this with another human being. All the while it features a Romanian Troll/Goblin thing who just wants to sing the hits and learn how to dance; about a Van Morrison gig that accidentally came to be the cornerstone of a personality; and about a gong bath so profound that it caused someone's spine to grow by two inches. 
Speaking on the innovation and a desire to offer audiences something different from 'live-streaming' Norris said: "Since the live comedy scene closed down, I've been trying to devise ways of adapting my live work to make it translate to an online audience. While it's been really great to see original, exciting stuff being done in the arena of live streaming, i've personally felt that it sacrifices a lot of the things I love about live comedy in favour of preserving interactivity, and have been wondering if sacrificing that interactivity and turning to the techniques of filmmaking might be a better way to recreate the elements i miss most."
"While a live Edinburgh show feels like the carefully crafted, lovingly constructed product of a boundless imagination, to me a livestream show can only ever feel like a rough approximation of what live comedy used to feel like. To me, there's no room for zoom. The more logical way to preserve the imagination and craft of a Fringe show is to sacrifice interactivity and use the tools and traditions of film to engage the audience in a different way despite their not being physically present." 
"I know that by 2021, when live comedy begins to make a return, my brain will have no interest in revisiting a show I started writing in 2019 about the circumstances of my life at the time, so my options were to either abandon that show or find a way to explore its ideas and themes in a different way for an online audience." 
"I love a challenge, so whether this ends up being an exciting new way of adapting live comedy shows to film, or whether it ends up being a glorified overblown vanity project, it was the only way to clear all this nonsense out of my head. It's a show about a house, so it's felt quite natural turning it into a film I can shoot in the confines of my home." 
Joz Norris's solo shows have built up a cult following at successive Edinburgh Fringes, and his 2019 show, Joz Norris Is Dead. Long Live Mr Fruit Salad. was one of the breakout word-of-mouth hits of the year, winning the Comedians' Choice Award for Best Show, being nominated for the Malcolm Hardee Award for Comic Originality and the Chortle Award for Best Music and Variety Act, and transferring to an extended run at Soho Theatre. He is the creator and performer of BBC Radio 4's upcoming stand-up special A Small Talk On Small Talk and the co-creator and co-host of BBC Radio 4's Useless Millennials alongside Roxy Dunn.
His sitcom collaboration with Ed Aczel, Ed & Joz's Heist Movie, was commissioned as a non-broadcast pilot for Tiger Aspect in 2019, and he has appeared in BBC Three's Blindboy Undestroys The World, BBC Radio 4 Extra's The Comedy Club Interviews, Dave's The Dave Talks and Channel 4's Hodge Podge. He is a key member of the Weirdos Comedy Collective, as part of whom he won the Chortle Award for Comedy Event of the Year 2018 for their on-ice spectacular The Battle For Icetopia. 
Listing for Joz Norris
: 
You Build The Thing You Think You Are 
Dates: Monday 20th July 2020 - Sunday 26th July 2020 
Venue: Vimeo 
Tickets: https://ctzn.tk/YBTTYTYA 
Price: Pay-What-You-Want 
Extra: Live Q&A will feature after each show with special guests