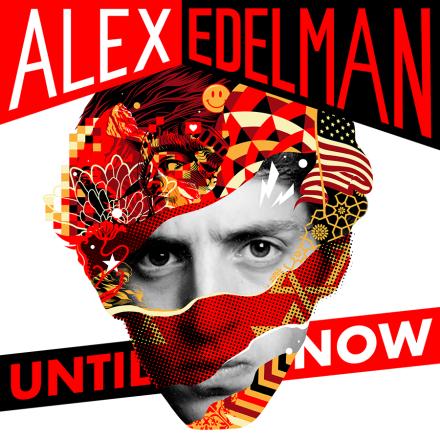 Award-winning comedian and writer Alex Edelman releases his debut comedy album on 10th July, a collection of 22 jokes, entitled 'Until Now' via 800 Pound Gorilla Records /Ada Distribution.  Alex says "These are my favorite jokes from my solo shows and TV appearances. Old ones, new ones, red ones, blue ones. I'm so excited as it will finally force people on social media to stop asking me when I'm going to put out an album." 
In April this year Alex was the lead writer and executive producer for 'Saturday Night Seder', a star studded 70-minute special, posted on YouTube, that has so far raised $3.5 million for the CDC Foundation (COVID-19) Emergency Response Fund.  A group of singers, actors, comedians, religious leaders and more helped to tell the story of Passover. Rooted in tradition, but comprised comedy, music and sketches, the grassroots effort was created over the course of three weeks by a team that never met in person. More than 1 million people watched the initial stream, which was hosted by Jason Alexander with participants that included Nick Kroll, Idina Menzel, Debra Messing and Bette Midler. It trended on Twitter, is a contender for a variety of Emmys, and is available to watch via www.SaturdayNightSeder.com. 
This year the Bostonian comedian also completed his first ever UK tour with his Edinburgh Comedy Award & Barry nominated show 'Just For Us'.  Awarded the prestigious Herald Angel Award, and garnering reviews that made it the Edinburgh Festival's most critically acclaimed show in more than a decade, this show marked Edelman's growth from promising newcomer to an artist lauded by fans, comedy legends, and critics — on both sides of the Atlantic — as one of the best of his generation. The tour ran for over 30 dates including a sold out 6-night run at London's Vaults Festival, a second leg will be announced for 2021.  This year he also supported Jack Whitehall on his several dates of his tour including Wembley Arena. 
'Just For Us' covered many different topics - Edelman's Olympian brother AJ, a surprising encounter with Prince William at the BAFTAs, his ADHD, what being "brave" means in this political climate, and a gorilla that can do sign language. These anecdotes are all given hilarious, unique space - but at its astonishing centre is one significant and unfortunately timely story. After a strong anti-Semitic strain of online abuse was directed at Edelman in January of 2018, he decided to covertly attend a meeting of those same anti-Semites in a New York City apartment.
Alex Edelman's first show, Millennial – about very traumatic stock photos and young people - won the Edinburgh Comedy Award for Best Newcomer, the first show by an American to do so since 1997. It went onto be recorded for a BBC Radio 4's stand-up special that was included within Radio 4's 'Pick of the Week' and chosen for Radio 4's 'Comedy of the Week'. The follow-up, Everything Handed to You - about identity and the availability of plug sockets in airports - was even more acclaimed: selling out its entire Edinburgh run and becoming the second-best reviewed offering of any comedy show at the Festival. It was also filmed in its entirety for a special called Live From the BBC, which is currently available on Netflix. 
Edelman's comedy development began during his time at a religious seminary in Israel, where he was one of the founders behind Off the Wall Comedy Basement in Jerusalem. He cut his teeth in the New York comedy scene during college at NYU and was named by the New York Underground Comedy Festival as one of the city's 'Best Comedians Under 25' in 2008. After encouragement from Zadie Smith - one of his professors - to study in the UK, he was soon across the pond on a Royal Academy of Dramatic Arts program, and quickly took up residence in the British alternative comedy scene immediately after graduation, with invitations to perform at noted comedy and music festivals such as; Glastonbury, T in the Park, Machynlleth, Latitude, Bestival, End of The Road and Edinburgh. 
His debut, the aforementioned 'Millennial,' earmarked him as a comic worth reckoning with and, besides the Edinburgh Comedy Award, earned him a nomination for Best Newcomer at the 2015 Chortle Comedy Awards & invitations to perform across the globe including San Francisco Sketchfest, New York Comedy Festival, Melbourne Comedy Festival, Leicester, Brighton, Lund (Sweden) and many more. Alex completed three sell-out runs at London's noted comedy haunt The Soho Theatre, supported Simon Amstell on tour alongside developing various television & radio projects, and travelled to Berlin and Moscow with Eddie Izzard to perform two shows to celebrate the 70th anniversary of the end of World War II.
Over the past four years, Alex has split his time between the UK and America.  His writing projects have included a stint as lead writer for the BAFTA Brittania Awards, a pilot produced by Academy Award winner Diablo Cody and a months-long turn in the writer's room for Jenji Kohan's Slutty Teenage Bounty Hunters, just released on Netflix.  He was also a writer on 'The Great Indoors,' starring Joel McHale and Stephen Fry, which was extended twice for CBS in the US and aired on ITV2.  He wrote and starred in a two-part series for Radio 4 entitled, 'Alex Edelman's Peer Group.' This has been recommissioned  twice and a third series was released in February to universal acclaim. Edelman has appeared twice on the late-night American TV show 'Conan'. 
Other TV appearances include 'Live at The Apollo', 'Roast Battle' and 'Alan Davies as Yet Untitled'.  He completed high-profile support slots for Ricky Gervais' West Coast run, and, curiously, opened more than a dozen shows for musicians like Beck and Ryan Adams on their recent US tours. Last August he was handpicked by Belle and Sebastian's Stuart Murdoch to appear on the band's Boaty Weekender, where he performed alongside Yo La Tengo and many other band's as the outing's lone comedian.
Track Listing:  Happy Thanksgiving, Heritage, JFK, The Greatest Generation, All Things Arizona, Hope, Progressive Racism, Intrusive Thought, Attending NYU, Millennial, Fast Food Etiquette, KFC, Work Experience, The Vegan Cupcake Shoppe, The Sword Swallower, Planet Earth, Phone Sex, Could Be Anything, My Parents, The Worst Tattoo, The Break-Up, Meeting Neil Armstrong.
'UNTIL NOW' will be available here.