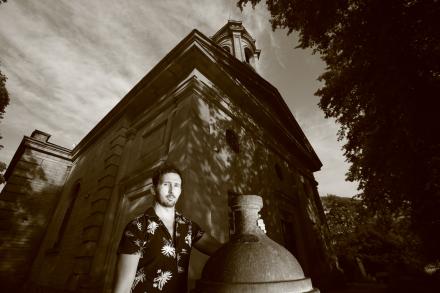 Comedian Nathan Cassidy has announced a live stand-up show in July and is claiming that it is the first solo live comedy show apart from the various drive-in shows that have been announced.
Roses from Joe, the sequel to Leicester Comedy Festival 2020 and Buxton Fringe 2019 Best Show Nominee 'Observational' will be performed at the Buxton Fringe on Sunday July 12th at 7pm.
Cassidy explains that it's an outdoor event for five audience members only to keep to Government-mandated groups of 6. People can apply for tickets via [email protected]. All the ticket sales go to charity.  
Here is some more information about the show, which I think we can confiently predict will be a sell-out.
In 1985, Nathan moved from a big house in the countryside to a tiny flat above a greengrocer, and had a terrible time. Thirty-five years later something happens, something magical to make him see that time through different eyes. You can close your eyes and wish for a better, happier reality - and when you open your eyes, it's there, right in front of you.  All you have to do is throw your love into the air to no one and everyone, close your eyes, and wish yourself away!
Nathan Cassidy: Roses From Joe (work in progress)
Buxton Fringe (outdoor event)
Starts outside Old Club House and ends 500m away.
Sunday July 12th, 7pm (75 mins) £10 (all ticket proceeds to charity) 
Picture: © Andy Hollingworth