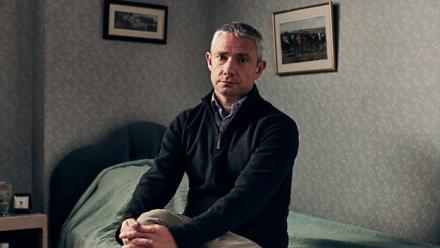 How did you become involved?
I was asked by Jeremy Herrin, a director I've worked with previously, if I'd be interested in taking part. He sent me Nick Hytner's plans for what it would mean logistically.
Tell us about A Chip in the Sugar and your character Graham?
Graham, my character, is a middle-aged man, basically married to his mum, in that they live together and she is the overwhelmingly major figure in his life. His relationship with her is threatened by an old flame of hers coming back onto the scene.
How do you feel about remaking the monologue originally performed by Alan Bennett himself?
Doing Alan's monologue was a little intimidating, and also a huge honour that I was being trusted with it. To be approved of by Alan, who I don't know, is something I wish I could have told my mum.
I knew some of the monologues better than others; I remembered snippets of Alan's but not too much, I'm glad to say! The first thing I said to Jeremy was, well, I'm not going to outdo Alan Bennett, am I? We knew we had to treat it as a new piece of writing, and not be swayed by the folk memory of the original performance.
Tell us about the preparation that had to be conducted remotely before filming?
Jeremy and I did laptop rehearsals probably five times. He's very good at picking up little details that I miss, gently suggesting a different colour here and there. On the day of shooting it was very weird to keep distance from people; my world is normally quite tactile, as people probably guess! So not even shaking hands with people was odd. I brought in a load of clothes and was presented with some other choices in the morning. Doing my own makeup was alright, though I'm hardly an expert; luckily, for Graham, 'less is more'.
How did you find filming in such a unique format during lockdown?
The filming itself was okay, everyone was doing their best to maintain the distancing rules, as you'd expect. That was being taken very seriously. I was in Dot Cotton's bedroom, so that's one thing ticked off the bucket list.
Why do you think Talking Heads resonates so much with viewers?
Working on this, you're reminded of just how good Bennett's writing is - it's so beautiful, nothing is over-egged. He can just drop a tiny clue in about the character that opens up how you see them. Many times while I was reading and memorising it, I just stopped and went, my God he's good. It's so funny and so touching. He's kind of a master, really.
Interview supplied by BBC.