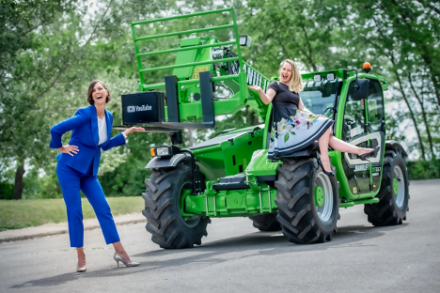 Just For Laughs, the iconic cultural institution, has hit 10 million subscribers on their Just For Laughs Gags YouTube channel. This milestone makes it the most subscribed comedy channel in Canada right now, earning the renowned Diamond Play Button from the platform. 
Just For Laughs launched the Gags channel in 2008. Since then, the channel has continued to grow in popularity across the globe with close to 6 billion views, and no country taking up more than 10% of current watch time. Just For Laughs now runs 11 different YouTube channels in several languages including Arabic, Chinese, German, Greek and Spanish. With all channels combined, Just for Laughs has amassed nearly 20 million subscribers. 
Just For Laughs' Gags has played an integral role in Montréal's cultural scene for the past 20 years, pranking an outstanding 150,000 people along the way. The silent comedy and hidden camera have made Gags easy for all to enjoy, resulting in huge viewership. The Gags channel's subscribers and views has put it in the league of widely popular comedy titans on YouTube including Comedy Central, Late Night with Seth Meyers, and The Tonight Show starring Jimmy Fallon.
In the spirit of global citizenry, Just For Laughs is also leveraging the international reach and appeal of its Gags channels to support the World Health Organization through YouTube Giving. The feature allows YouTube creators to support the charitable causes they care about by adding a donation button next to videos on eligible channels. The donation button is currently enabled on 250 videos across four of their channels, and Google.org will match $2 for every $1 up to $5M.
"20 years ago, the now legendary producers, Pierre Girard and Jacques Chevalier, co-creators and producers of Just For Laughs Gags, created a brand that has now become an international icon amongst pranks and comedy lovers," said Anne Belliveau, Chief Marketing Officer, Just For Laughs. "This international growth comes from our commitment to digitally expand our presence on YouTube. We are extremely proud of the digital experience we've created, that audiences across the globe have come to enjoy. This is a benchmark in our continued digital investment, as we bring our comedy to more fans across the globe."
"It's incredible to watch a cultural institution that has been entertaining Canadians for decades find new and innovative ways to engage audiences and distribute their content," said Andrew Peterson, Head of Content Partnerships, YouTube Canada. "In growing to over 10 million subscribers, the Just For Laughs Gags channel has joined the ranks of the top echelon of creators on YouTube. It's absolutely fantastic to see Canadian content reach an audience of this scale at home and abroad."
Pictured: Luiza Staniec of Google Canada awards the Diamond Play Button via forklift to Anne Belliveau, CMO of Just for Laughs while mainatining social distance. Picture credit: Myriam Frenette