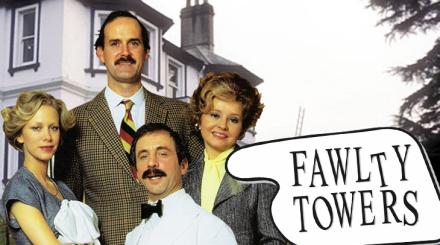 The classic Fawlty Towers episode The Germans is the latest comedy programme to be pulled.
The Guardian has reported that the 1975 sitcom episode, written by John Cleese and Connie Booth, has been taken down from UKTV's catch-up service.
No specific reason has been given. The report quoted a BBC spokesperson as saying: " We aren't commenting on individual titles. However, we regularly review our programmes, and make edits, add warnings and make schedule changes where necessary to ensure that our channels meet the expectations of our audience." (Update - UKTV has now issued a statement here)
This is the latest programme to disappear from various locations in recent days, following Little Britain, The Mighty Boosh, League of Gentlemen and Bo' Selecta. Ant and Dec and Leigh Francis have issued apologies from some of the work they have done in the past.
The Guardian suggests that the contentious material is not John Cleese goostepping or shouting "Don't mention the war" but a scene in which the Major uses racist language when talking about the West Indies cricket team. In recent years this scene has been edited out of repeats. 
This latest development has had a mixed response. UK-based German comedian Henning Wehn tweeted: "Now Fawlty Towers is being cancelled... Here's an idea: let's delete/destroy everything ever made/built and start afresh."
John Cleese has commented on this here.