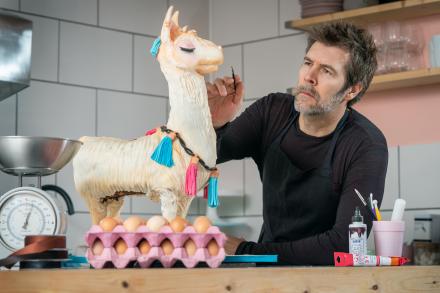 Rhod Gilbert returns for a ninth series of Rhod Gilbert's Work Experience that sees the Welsh comedian swap his day job for other careers across the country. 
Rhod's next challenge, airing on BBC One Wales at 9pm on June 12, sees him try his hand at cake artistry. Far from decorating an average birthday cake, this is serious edible art and Rhod has his work cut out for him.
From going behind-the-scenes at a Cardiff-based bakery to competing in a prestigious cake artistry competition in Birmingham, Rhod (Never Mind the Buzzcocks, Live at the Apollo) immerses himself into the world of crazy cakes.
Along his culinary journey, he joins baker Emma Jayne for a crash course in cake artistry where he crafts a cake in the shape of a boot before being told he's been entered into a global competition. Helping Emma put the finishing touches on a life size polar bear cake she plans to take to the show, Rhod is soon taken aback by how intricate cake art can be. 
With only a few days to create his own edible entry, will Rhod's ambitious creation wow the judges or make them laugh for all the wrong reasons?
Speaking about the episode, Rhod said; "Having never even made a cake, entering a world class cake art competition at the Birmingham NEC seemed like a no brainer, and with just two days to prepare, what could go wrong?  Disclaimer: some stuff did go wrong."
The second programme, airing on BBC One Wales at 9pm on June 19, sees him join a crew of road workers across south Wales.
After an induction with one of Wales' largest civic engineering firms, training with an excavator and completing a road safety course in Bridgend, Rhod heads out on the road to get some first-hand experience.
From building kerbs and getting behind the wheel of a digger called a pecker, to traffic management in Newport, the comedian does it all as he immerses himself in life as a road worker. 
Speaking about the episode, Rhod said; "I've always fantasised about leaning on a shovel in a high vis jacket, while appreciative motorists shower me in four letter compliments and my dreams came true when I got the chance to be a road worker for a few days."
Both episodes will also be available on iPlayer after broadcast.