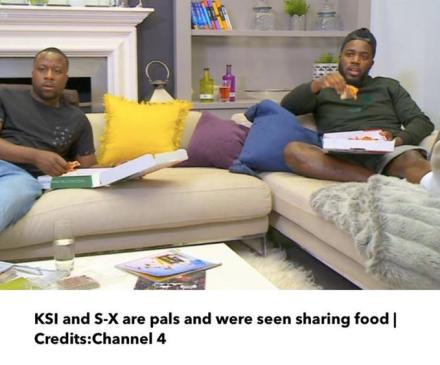 Comedian Mo Gilligan has complained that a story about his appearance on Celebrity Gogglebox failed to get his name and his friend's name right in the caption.
A report on Mirror Online showed a picture of the comic with his friend, comedian Babatúndé Aléshé, but the caption underneath said that it was a picture of two other people that had appeared on the same Channel 4 show, KSI and S-X (pictured).
Gilligan tweeted the picture and wrote: "Really? @DailyMirror"
Fans and fellow comedians were quick to take up the issue on social media.
Comedian Emma Sidi simply tweeted: "Oh my fucking god".
Stand-up Adam Rowe wrote: "For FUUUCCCKKKKKSSS sake".
The caption then appeared to change to "Mo the Comedian was seen sharing food with his mate," prompting Gilligan to tweet: "It's 2020 and @DailyMirror can't even credit me & @BabatundeComedy by calling us by our names on a TV program. this correction is so passive."
Former BBC Entertainment Commissioner Sohail Shah tweeted: "FFS What's worse is that they have changed it now and still can't name @BabatundeComedy, mate. #BLM#CelebrityGogglebox#Mirror."
Babatúndé Aléshé's name does now seem to have been added. The version online currently says: "Mo Gilligan was seen sharing food with his mate Babatúndé Aléshé."
Picture: Twitter