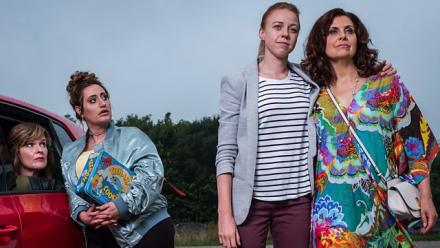 Whether by luck or judgement the BBC is on a roll at the moment with sitcoms featuring strong female casts. Sophie Willan's recent distinctive pilot Alma's Not Normal is going to become a series, but first this pilot, which went out back in 2017 (oh, happy days) on BBC Two gets a full run on BBC One.
The Other One, created and written by Holly Walsh (Motherland, Dead Boss) and Pippa Brown (Psychobitches, Bad Education), puts a fresh spin on the old odd couple format with two Catherine Walcotts, played by Ellie White (Inside No 9, The Windsors) and Lauren Socha (Misfits, Catastrophe) meeting when they discover that they have the same dead dad, who turned out to have two very different families. Six new episodes are set to follow but the dynamic is effectively established with a re-run of this original pilot. 
The comedy initially comes from family differences. One is trailer trashy and Tinder-obsessed, the other stuck up and repressed. They decide to go on a road trip to scatter dad's ashes and actually start to bond. In one touching scene it turns out that despite having very different upbringings their father used to play the same song to them in the car.
There are some lovely lines here. When it is suggested by one Catherine that they scatter the ashes in the local playground sandpit the other Catherine says: "Do we really want children playing in our dead dad?" Every time the script sails close to class cliché it manages to pull something different out of the bag.
And for a half hour piece there's a lot going on here. Quietly distraught posh mum Tess played by Rebecca Front (The Thick of It, War and Peace) is trying to get back on the dating scene to make up for lost time, while a subtext finds posh Catherine's useless boyfriend Marcus (Amit Shah) getting embroiled in a dick pic scandal. And familiar face Siobhan Finneran (Downton Abbey, Happy Valley and also the mum in the aforementioned Alma's Not Normal) is very good as the thoughtless but nice chain-smoking rough mum Marilyn who keeps dad's ashes in an inappropriate tin.
Quite why this originally went out on BBC Two is a bit of a mystery. OK, it's no Mrs Brown's Boys, but it's an absolutely accessible culture-clash comedy with something for everyone and feels much more suited to BBC One. It has taken three years to get here but it feels like it is worth the wait.  
The Other One, Fridays from June 5, 9pm, BBC One.