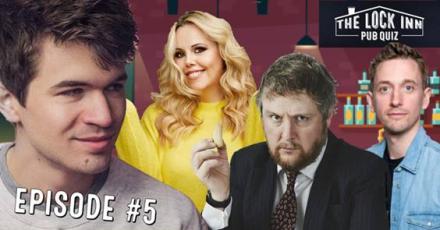 The Lock Inn Pub Quiz will premiere its fifth episode on YouTube at 8.30pm on Monday 1st June.
Regular host Ivo Graham will be joined by Roisin Conaty, John Robins and Tim Key who will all compete with each other in this part game show/part pub quiz format. 
The weekly quiz has partnered with leading music therapy charity Nordoff Robins to help them through the pandemic as viewers are encouraged to donate the price of a pint down their local that they'd normally spend at a pub quiz.
Previous shows have welcomed guests such as Phil Wang, Deborah Frances White, Ed Gamble, Tom Rosenthal, Amy Gledhill from the world's of comedy as well as actors in the shape of Fiona Allen (Smack The Pony) and Craig Parkinson (Four Lions, Line Of Duty). All of the past shows can be veiwed and played along with on the Lock Inn Quiz YouTube Channel https://www.youtube.com/channel/UCVlOyPcp_o215cvt9tvtuEg
Viewers can expect traditional pub quiz fayre in the form of general knowledge rounds, picture rounds and list questions but with significant twists in the form of a headless mystery guest playing the stylophone or guests stars introducing 'what happened next?' videos.
But what really sets this quiz apart from the one you play with your family online is the interaction between guests which in this week's episode hits new heights of hilarity with three Edinburgh award-winning comics at the height of their lockdown-induced insanity. 
The Lock Inn Quiz can be found on all major social media platforms, posting stand-alone clips, full rounds and extra bonus content.