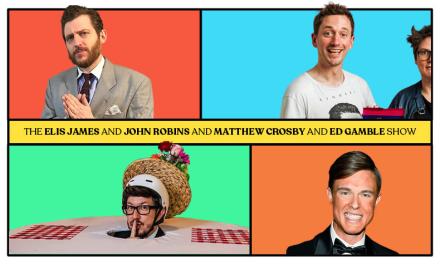 Its the showdown you've all been waiting for, commercial digital indie wunderkind's finally take on terrestrial radio's youngest DJs!
It's Tom Grennan VS Forgetting its the news. It's Angry texts from 55yr old men called Colin Vs more Tom Grennan. Is the sky truly a neighbourhood? Or is it where you can stream the live event of the lockdown?
For one night only it's The Elis James & John Robins & Matthew Crosby & Ed Gamble Show. It's all happening this Sunday May 31 at 8pm (UK time, stream live from 7.45pm). Available to watch worldwide. Tickets are on sale now at the link below.
Sunday May 31
Online, streamed worldwide
Doors 7.45pm
Show 8.00pm
Tickets £6
£1 from every purchase will be shared between two charities; Welsh Women's Aid and Standing Together Against Domestic Violence.
Free for NHS and careworkers – simply register your email address on the webpage. Tickets here: