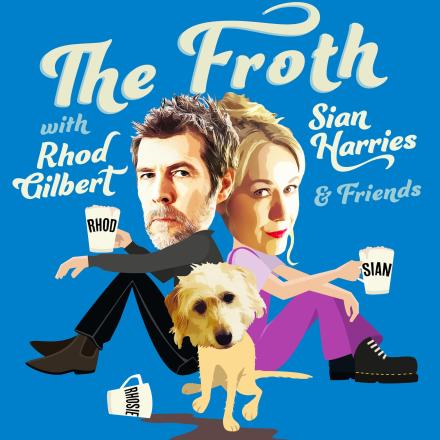 Comedians Rhod Gilbert and Sian Harries are launching a new podcast, entitled The Froth. In each episode the real-life couple will be brushing the relentless, depressing, serious news cycle under a thick shag pile carpet and focusing forensically on the frothy stuff; using stupid news stories from around the world, their own pointless lives and plenty of utterly pathetic listener stuff too.
Serious chat will be strictly forbidden. 'The Froth' is a place to let your brain slip into something more comfortable, a silky soft negligee for your aching frontal cortex, a spa break for the mind.
Covering everything from celebrity tittle tattle to madcap science, frivolous sporting news, hare-brained business ideas, plucky pets and much more; all intermingled with Rhod and Sian's meaningless existence and that of their listeners.
Every week they'll go down to their basement with a special guest (remotely during lockdown), and Rhosie (a dog). They'll talk, bicker and make up, 'phone friends, call upon experts, check in on famous people as well as family members to see what the froth they are doing.
Highlights so far include Sarah Millican on the mile-high club, Josh Widdicombe on accidental WhatsApp messages, Jason Manford on lockdown haircuts, a published neuroscientist about monster munch addiction, an old school friend about breaking wind in a strip club and Greg Davies on feet. You get the picture...the chat is frothy with Rhod & Sian ringing anyone, anytime, about anything.
The Froth is a Llanbobl Vision Production. Producer is Barry Castagnola at Rustle Up Productions. Executive Producers are Rhod Gilbert & Sian Harries.
Available at http://thefrothpodcast.com/ and the usual podcast outlets from June 8.