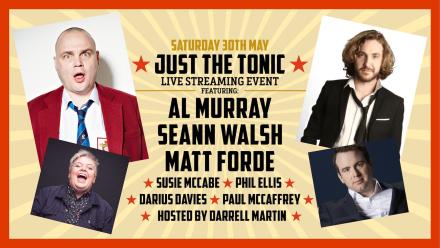 Al Murray, Seann Walsh, Matt Forde, Susie McCabe, Darius Davies, Paul McCaffrey and Phil Ellis are lined up for the latest live streamed stand-up show from comedy club Just The Tonic.
The club's second show will be compered by JTT's Darrell Martin and will be streamed live on Saturday 30 May from 8.30pm (gig starts at 9pm) via Just the Tonic TV.
To fully create the one-off experience of a comedy night, the gig will be streamed LIVE only, in HD and available to watch on tablets, phones, desktops, Apple TV and Chromecast. But once it is done, it will be gone. You just had to be there.
You can log in around 8.30pm to get settled in, sort your drinks and snacks out and have that pre-show settle down with a specially selected playlist. Audiences are strongly encouraged to create their own watching parties – because comedy is always better with mates. And to make the experience even more special, Just the Tonic is throwing in an exclusive discounted beer deal, offering 20 x 500ml bottles of ABK Hell for £25.99 (including delivery). Discount code will be given after tickets purchased,.
Darrell Martin says: 'Our last one was a right laugh to do. We had very mixed responses to various parts, but it was 95% positive. You always get the neigh-sayers. We learnt a lot, and each event will be an improvement of the last, whilst still allowing for the fun and spontaneity of the live event. This is Just the Tonic Comedy Club's 2nd live stream event. It will feature comedians that we usually book for stand up doing different things as we try to get to grips with the new world order. Buy a ticket with an open mind. Our first event was a general success. We listened to the feedback and are making changes. We are going to do this regularly so please sign up for newsletters on the checkout or go back to our website and join the mailing list. Do not expect straight stand up! This is all new to everyone.'
Darrell Martin's critically acclaimed Just the Tonic club chain began in Nottingham over 25 years ago. It has become known as one of the most respected comedy venues in the country, playing host to countless up-and-coming comics as well as the most established names throughout the UK. Just the Tonic is now one of the leading comedy venues in Birmingham, Leicester, Nottingham, Reading, Watford, as well as leading iconic venues at Leicester Comedy Festival and the Edinburgh Festival. 
Buy tickets here. The show is also supprting the Leicester Comedy Festival. 50% of the ticket income will support the annual festival – as long as people enter the code LCFJTT when they buy their tickets.