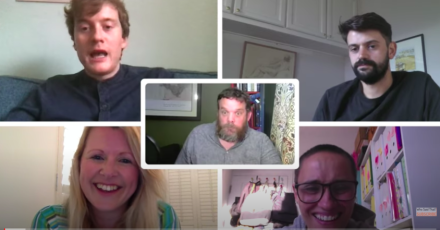 Finding themselves out of work and struggling to stay sane, stand up comedian Mark Olver, who has warmed audiences up for the every panel show going (including The Last Leg, HIGNFY, Would I Lie To You), has joined forces with TV producer Simon Gummer to create their very own comedy panel show.
Produced independently for zero budget the lockdown has actually provided an opportunity to produce something that would normally not be possible without the backing of a major production company and broadcaster. 
Recorded over Zoom and broadcast on YouTube each episode sees four famous faces dial in to test their knowledge of how each other thinks and make each other laugh.
The next epsiode features James Acaster, Jen Brister, Fin Taylor and Esyllt Sears and is released on YouTube at noon on May 20
here
.
The game is simple - each round, one of the players asks a question which the other three must answer. They text their answers to Mark who then reads each one out. The questioner's aim is to try and work out whose answer is whose. 
Guests so far in the series have included Mark Watson, Angela Barnes, Marcus Brigstocke, Tom Read-Wilson, Rachel Parris and Jon Richardson.
Watch a trailer below.