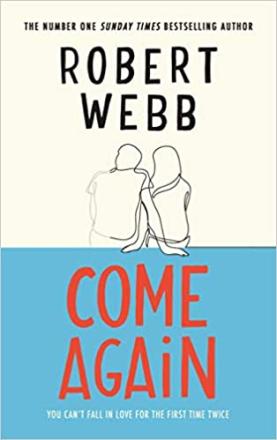 Comedian Robert Webb's debut novel is to be adapted for TV. Come Again was published by Canongate in April and has now been optioned by Firebird Pictures.
The book tells the story of Kate, whose husband Luke - the man she loved from the moment she met him twenty-eight years ago - dies suddenly. Since then she has pushed away her friends, lost her job and everything is starting to fall apart.
One day, she wakes up in the wrong room and in the wrong body. She is eighteen again but remembers everything. This is her college room in York in 1992. This is the first day of Freshers' Week. And this is the day she first meets Luke.
But Luke is not the man that she lost: he's still a boy - the annoying nineteen-year-old English student she first met. Kate knows how he died and that he's already ill. If they can fall in love again she might just be able to save him. She's going to try to do everything exactly the same . . .
Firebird Pictures' Elizabeth Kilgarriff said: "We immediately fell in love with Robert Webb's brilliantly funny book, not least because of its time-travelling twist on an utterly modern look at love, loss and grief. Who wouldn't be tempted to live their life again? Come Again is a rollercoaster ride to the '90s and back and we are delighted to have the chance to bring Robert's clever, surprising and highly entertaining story to the screen." 
Robert Webb, who also wrote the bestselling How Not to Be a Boy, added: "Firebird immediately understood the book and I'm thrilled that they've engaged with the story with such warmth and creativity. I know they'll make a brilliant job of the adaptation."
He tweeted: "Get a signed copy now so you're ready to become an early expert on why it's better/worse than on the TV version."