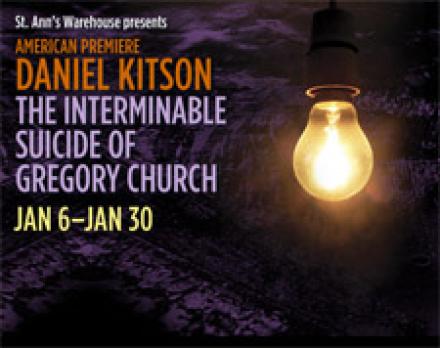 Daniel Kitson is to release his 2009 show The Interminable Suicide of Gregory Church online.
The show was filmed at the time by indie company Go Faster Stripe but never released. Kitson has used his time in lockdown to edit a version he is happy with.
He explained through his newsletter how fans can see it: 
"Now, I'm doing this in what may strike you as a needlessly contrary way and, lets be honest, it could well be but it's also, I think, a pretty fun and exciting way to do it. So here are the details.
 
 - I am going to introduce (this bit will be live) and then screen the show at 9pm every night, Monday to Friday and at 11am on Saturday and Sunday.
 
- There will be three screenings a day – 9pm in the UK, 9pm in Melbourne and 9pm in New York. And then at the weekend – 11am in the UK, 11am in Melbourne and 11am in New York.
 
- You can view the screenings from anywhere in the world, you don't have to be local to the specific time zone – which is to say – you could feasibly watch the Melbourne screenings in London and the New York screenings in Melbourne and so on.
 
- The capacity of each screening will be limited according to the number of seats in the venue at which I performed this show in those places. So -
 
UK- Tobacco Factory Theatre, Bristol -  356 seats
MELBOURNE - Fairfax Studio, Arts Centre, Melbourne – 376 seats
NEW YORK – St Ann's Warehouse, Brooklyn – 200 seats.
 
- Tickets will cost £5 (or local equivalent)
 
- All the money will go to The Angel Comedy Micro Bursary Fund – This is a new initiative being operated by Angel Comedy to support comedians who have lost work during the lockdown and throughout this ongoing, circuit decimating, diary clearing, livelihood buggering mess.*****
 
- Tickets will go on sale at 12 noon on Friday May 15th.  
 
- Melbourne tickets go on sale at Noon in Melbourne, New York tickets go on sale at Noon in New York and UK tickets go on sale at Noon in the UK.
 
 - You can buy tickets here - https://www.citizenticket.co.uk/organiser/daniel-kitson/
- You will need to create a citizen ticket account, in order to get your ticket. It will be emailed to you as soon as you complete the purchase.  There will be a button that says "Access Online Event". This button will be activated on the day of the screening, 30 minutes before the Start Time on your ticket. When you click on it, you will receive a link and a password - you click on the link and you enter the password and that's you in."