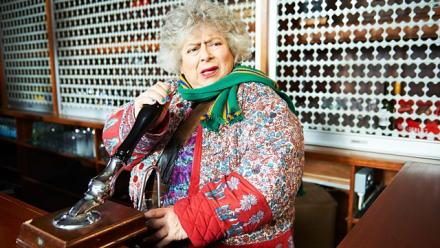 TV watchdog Ofcom has received 241 complaints following Miriam Margolyes' appearance on The Last Leg on Friday, May 8.
Margolyes was interviewed via Zoom while in her kitchen during the first live show in the new series with the three regular presenters, Adam Hills, Josh Widdicombe and Alex Brooker, speaking to her from their homes.
During the interview the conversation inevitably turned to politics and the government's handling of the crisis and Margolyes was characteristically uncensored, saying that she had had "difficulty not wanting Boris Johnson to die" when he had Coronavirus.
"I wanted him to die," she continued, "then I thought that will reflect badly on me and I don't want to be the sort of person that wants people to die. So then I wanted him to get better, which he did do, he did get better. But he didn't get better as a human being. And I really would prefer that."
A spokesperson for The Last Leg told HuffPost UK: "The programme is live and unexpected comments can happen. In this instance Miriam went on to say that she wanted him to get better."
Ofcom will asses the complaints and decide whether to take the matter further.
Picture: BBC (from sitcom Bucket)