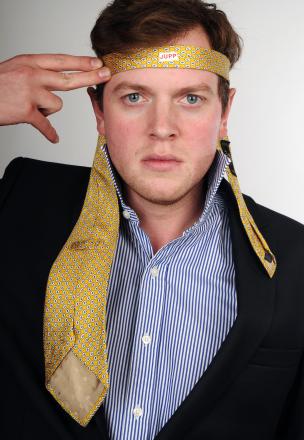 It is hard to believe that the UK's first Museum of Comedy has only just opened. There really should have been one for years. Leicester Square Theatre artistic director Martin Witts opened the museum, located between Holborn and Tottenham Court Road, earlier this month. It was a pretty low-key affair but things start to kick in this week. If you have the slightest interest in comedy – particularly the history of comedy – I urge you to get down there. And for reasons that will become apparent, I urge you to get down there quickly.
The museum space, in the basement of an old Hawksmoor church, is not large, but it is absolutely crammed with goodies and original artefacts from every era. Martin Witts is particularly proud of the stuffed bear (pic below by Steve Ullathorne) that has pride of place in the centre – it comes from Steptoe and Son's scrapyard. Witts clearly has good connections at the BBC props department. Between admiring Max Miller's gaudy suit and Russ Abbot's brothel creepers or Freddie Starr's canary yellow stage jacket one can pick up a book from the extensive comedy library and sit on a pew from The Vicar of Dibley, Father Ted or Rev.
While some of the exhibits are understandably in glass cases there are plenty of items one can actually touch, such as original scripts and old posters from the golden age of music hall. One can even have a go on some of Tommy Cooper's original homemade props such as his a guillotine and a box that magically produces two glasses of whisky (you can't drink the whisky though). If the museum takes off, it might surely be better to put some of these items in cases to preserve them. A Dave Allen confessional booth where you can film your own gags is a nice interactive touch. Witts wants to have headphones fitted inside Fezzes which you wear as you walk around, so you can hear a comedic commentary as you go, but is still working on that.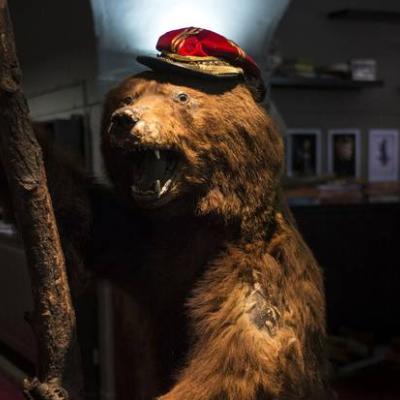 In the Cooper Room there are also films running on a constant loop and in the evening at the moment there are Edinburgh previews, with the likes of Mike Wozniak, Tony Law and Josie Long among those booked to appear. There are special ticket deals if you want to see a show and the exhibition. There is plenty on Python, plenty on Peter Cook and Dudley Moore and plenty on Lily Savage – Martin Witts used to work with Paul O'Grady. This is clearly a labour of love, though it is also a great way of clearing out his cupboards. Witts has had a lot of this treasure in storage over the last few years.
For fans of more contemporary humour there will be comedy and magic classes from Logan Murray and Jerry Sadowitz. There is also an extensive exhibition of photos by snapper to the stand-up stars Steve Ullathorne. I happen to know that Steve is a brilliant photographer, he even took a photo of me once that made me look half-human. The picture above of Miles Jupp is in the exhibition and if you go along you will see a picture of Harry Hill And Matt Lucas both with hair – not necessarily their own – which is worth the admission price alone. 
Here is my review of the Museum for The Evening Standard. 
For details of the Museum of Comedy see here.