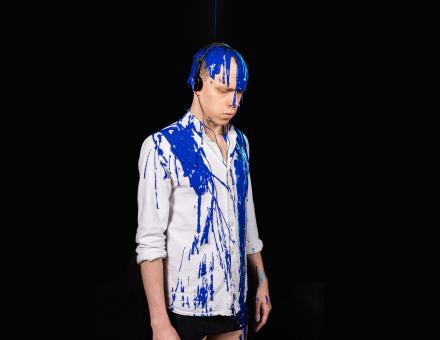 Joining Fleabag, Mr Swallow's Houdini, Jen Brister, Nish Kumar and many more, two new shows by Dave's Edinburgh Comedy Award for Best Show 2019 winner Jordan Brookes (Bleed, 2018) and 2015 Funny Women award winner Desiree Burch (Desiree's Coming Early, 2019) come to Soho Theatre On Demand on Wednesday 6 May at 7pm for three weeks only.
On the launch of these new shows, Steve Lock, Soho Theatre's Head of Comedy said: "Having performed on our stages many times, Jordan and Desiree are two of our favourite comics. We're thrilled to welcome both toour On Demand site so audiences to enjoy these superb shows at home."
Recorded live at Soho Theatre, the new full-length shows will be available to rent on https://www.sohotheatreondemand.com/.
DESIREE BURCH: DESIREE'S COMING EARLY (2019)
Filmed at Soho Theatre in November 2019 following a critically-acclaimed run at the Edinburgh Festival Fringe and directed by Sarah Chew.
Comedian and storyteller Desiree Burch (Netflix's Too Hot To Handle and Flinch, The Mash Report and Live at the Apollo, BBC) was born late, bloomed late, and generally has difficulty with the present moment.
At a moment in recent history where decades of societal progress swung right back around to authoritarianism and disintegration, Desiree embarks on a spiritual journey of mythically ridiculous proportions into the Black Rock Desert of Nevada, to figure out how she, and all of us, have gotten here, and maybe, possibly, hopefully fix the suckiness for us all.
Praise for Desiree's Coming Early
'a near-perfect example of comedic storytelling' ★★★★ Evening Standard
'a mesmerizing performance... myriad thematic strands all coalesce into one magnificent whole' ★★★★★ Fest 'a creative masterpiece of epic proportions...downright hilarious and genuinely profound.' ★★★★★ Ed Fest Mag
JORDAN BROOKES: BLEED (2018)
Filmed at Soho Theatre in November 2018, and created and developed by Jordan Brookes, Ciaran Clarke and Bríd Kirby.
Critically acclaimed and adored by his peers, Jordan is riding high. There's been so much buzz about him. I've heard he does absurd stuff on stage? Yeah sort of, but it's also very accessible. Apparently, he's a really nice guy in real life too. Yeah he is. Very charming. Yes, very charming. Got a lot of time for him. Shall we give him a go then? Oh, absolutely not.
"riskiest comic in the biz" ★★★★ Guardian
"a rictus-grinned latterday Lee Evans who constantly stares into the existential abyss" ★★★★ Beyond The Joke "Awful, and hilarious" ★★★★★ One4Review
SOHO THEATRE ON DEMAND
Soho Theatre On Demand shows also available:
Adam Hess: Adam presents an hour of endearing and hilarious tales of misfortune. Chortle's Best UK Circuit Comedian
2015 proves his worth with fast paced storytelling about everything from relationships to getting very lost on the Thames.
Aditi Mittal: Indian comedy superstar and all-round good girl Aditi starts by exploring what it means for her to be a trailblazer, win awards for "Fempowerment" and ends up writing a bumbling love letter/confessional to the original "fempowered" woman in her life: her mother.
Dane Baptiste the multi-award nominated comedian presents an exclusive collection of his favourite previously unseen material spanning the last five years.
Fleabag: Now playing until 31 May. See the hilarious, award-winning, one-woman show that inspired the BBC's hit TV series Fleabag, captured by NT Live. Written and performed by Phoebe Waller-Bridge and directed by Vicky Jones, Fleabag is a rip-roaring look at some sort of woman living her sort of life.
Houdini: Now playing until 20 May. In these worrying times of global pandemics and lockdowns, who better to lift your spirits than the eccentric tour de force that is Mr. Swallow, a man willing to pay the ultimate homage to Houdini himself by recreating the master's legendary underwater escape (and you thought your lockdown was bad??).
Jen Brister: Jen uses her hilarious ranting to rail against period poverty, the perimenopause and why her Mum needs to get out of her bloody house.
Jessie Cave opens up her DIY heart in I Loved Her and explains in definitely too much detail her insecurities, jealousies, fantasies and her exact current relationship status via shadow puppetry, masks and her little book of confessions.
Joel Dommett: is a bit of a regular on our TV screens (The Masked Singer for one). He is addicted to smoking breadsticks (a habit from childhood) and has some pretty brilliantly ridiculous stories to tell.
Josie Long: Three-time Edinburgh Comedy Award nominee and cult optimist with her most personal show to date – about love and being outdoorsy as a bear.
Lazy Susan: Edinburgh Comedy Award nominees and hot virgins Lazy Susan present an hour of laidback, inventive sketch comedy. Some of it is about what it means to be a woman these days and some of it is about dogs etc.
Each Soho Theatre On Demand show is available for 48-hour streaming, at a cost of £4. Fleabag For Charity and Houdini have several price points available, with Fleabag raising funds for the National Emergency Trust, NHS Charities Together, Acting for Others, and the Fleabag Support Fund, and Houdini raising funds for NHS Charities Together as well as a trust for comics most affected by the pandemic and the resulting financial instability.
Desire Burch picture by Idil Sukan.