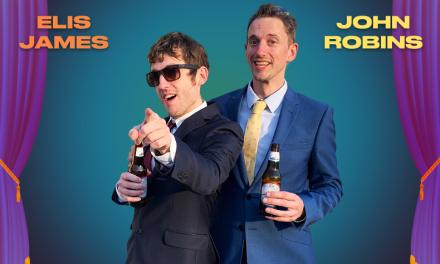 Now available to rent, stream and enjoy on-demand at your convenience – until May 14.

ELIS JAMES and JOHN ROBINS are two of the nations best tolerated DJs, and they have been creating passable radio together for over half a decade. Off air they are respected comedians who've performed to tens of thousands of people across the UK / low hundreds of Welsh-speakers in Carmarthen.
For one night only, join comedian and raconteur IVO GRAHAM as he hosts a special evening with Elis and John, taking a look back at their life, work, loves, regrets and cans. With special guests from across the radio broadcasting airwaves..
Stream rentals are £6 – with £1 from every purchase going to Elis and John's chosen charity, Standing Together Against Domestic Violence
*If you'd bought a ticket to watch the live event on Apr 26 you will have received an email (on Apr 30) with a free access code so you don't need to pay again to watch it. Please don't pay again for this.
Buy here –  you'll need to register a unique user account. It'll only take a minute, and it'll ensure your purchase is remembered if/when you return to watch.
Any ticketing issues, here is email.