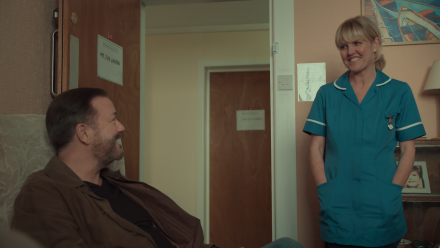 Warning: there are series spoilers in the review below.
The second series of After Life starts with some gorgeous-looking scenes of British small town life played out to the melodic sound of The Carpenters' Top of the World. People shopping, strolling in the sun.
Is writer Ricky Gervais going soft in middle age? Is his character, local reporter Tony Johnson, finally cheering up after the death of his beloved wife Lisa (Kerry Godliman)? 
Tony clearly still thinks that a lot of people are arseholes and is going to give them the treatment they deserve. But he is no longer a cookie cutter misanthrope who has decided that the world is a brutal, horrible, heartless place. He has decided that he does like some people after all. And in this series even goes out of his way to help them.
In fact the first episode actually features someone who hates life more than Tony. He and photographer Lenny (Tony Way) have to go and interview a local woman (played by Annette Crosbie) in a care home who is celebrating her 100th birthday. Is she happy? Far from it. "It hurts to be alive," she tells Tony between various foulmouthed fusillades. 
If you like swearing there is plenty of it here. The first episode has a particularly high cunt count. But it isn't done for shock value, it's done to reflect how people feel. And also how they speak. 
It is not just Tony who has problems. His editor, Matt (Tom Basden), is separated from his wife and having therapy. His sessions with the boorish psychiatrist, played by Paul Kaye (looking eerily like a middle-period Michael Caine) are awkward and wince-inducing - the only advice he seems to get is to go on the lash and have a one-night stand. 
While Gervais is clearly the star this is very much an ensemble piece with all of the cast having plenty of screen time. The paper's advertising boss Kath (Diane Morgan) reveals that she has the hots for Matt, while Lenny is now happily living with June (Jo Hartley) and her son James (Ethan Lawrence), who Lenny fixes up with some work experience at the Tambury Gazette.  
Meanwhile Tony has become good friends with sex worker Roxy (Roisin Conaty) and sets her up on a date with his postman Pat (Joe Wilkinson), who he still has something of an antagonistic relationship with – particularly when Pat decides to have a bath in Tony's house without asking.
But maybe Tony is finally becoming the hero that Gervais talked about when he was first working on the series. He meets with the Tambury Gazette owner Paul (Peter Egan) and tries to save everyone's jobs. And acts as an agony uncle to young colleague Sandy (Mandeep Dhillon) when she is fearful about her future. 
But is Tony going to find happiness himself? His graveyard chats with Anne (Penelope Wilton) help to lift his mood. And there is clearly some chemistry with Emma (Ashley Jensen), the nurse who looks after Tony's father (David Bradley). But is he ready for something more than friendship?  
The first series of After Life really touched a nerve with people who had suffered a loss. Somehow Gervais managed to get right inside the skin of grief in a way that people everywhere identified with. In this series he does it again in the way that he portrays someone starting to work their way out of grief and back into normal life, however hard that is – and it is clear it is not an easy journey for Tony.
And, of course, there is comedy too. While the emphasis is more on drama than belly laughs there is plenty to make you smile here, particularly during Tony's exchanges with Roxy and Pat. We also meet a new character, actor Ken (Colin Hoult), who is putting on a big show in the village hall.
The resulting am-dram show is the kind of car crash performance you can only watch through your hands. It will make you laugh, but it will also make you cringe, mainly when Brian (David Earl) is doing some awful stand-up or Tracy Ann Oberman, whose character had a memorable date with Tony in series one, recites some feminist poetry.
There is certainly a lot going on in series two. This series overview barely scratches the surface and there are some crucial details we haven't revealed. Does it surpass the first series? I'm not sure. That made such an impact it was always going to be hard to beat. But there is no doubt that this sequel will grab you from the very start and keep you grabbed until the very end. 
All episodes of both series of After Life are now available on netflix.com
Picture: Netflix