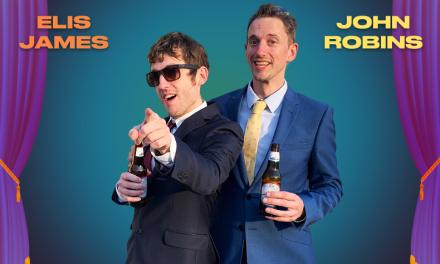 Watch Elis James and John Robins live on Sunday April 26, starting at 8pm (UK time). 
ELIS JAMES and JOHN ROBINS are two of the nations best tolerated DJs, and they have been creating passable radio together for over half a decade. Off air they are respected comedians who've performed to tens of thousands of people across the UK / low hundreds of Welsh-speakers in Carmarthen.
For one night only, join comedian and raconteur IVO GRAHAM as he hosts a special evening with Elis and John, taking a look back at their life, work, loves, regrets and cans.
This is an unmissable, one off, live stream only event. Since Elis' fiancée managed to work out how to record voiceovers remotely, his financial stability during the lockdown is secure. John, however, really needs this.
BYOB. #elisandjohnlive
Click here to buy access. You will need to register a unique user account. It'll only take a minute, and it'll ensure your purchase is remembered when you return to this page on Sunday.
Any ticketing issues here's an email address.

Click NOTIFY ME and we'll send you a reminder email before the show starts.
Tickets are £6 in advance – with £1 from every ticket going to Elis and John's chosen charity, Standing Together Against Domestic Violence
Free for NHS staff and careworkers (click here if you're eligible)