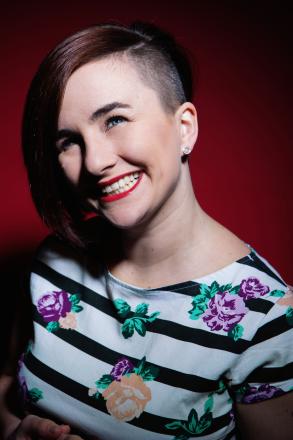 Laura Lexx (Live at The Apollo, Roast Battle, Hypothetical and that recent viral Jürgen Klopp thread) has come up with a new way of completing her first book during the lockdown.
The Brighton-based comic recently started reading a novel, entitled As We Know It, that she wrote years ago live on YouTube. She read a couple of chapters a night, with people either watching live or catching up afterwards.
When she reached the end, Lexx found that there was a demand for more and so came up with innovative way of revisiting the idea – writing a new chapter based on viewer suggestions, as she explains here:
"When we started nearing the end of the book people were getting sad because it had become part of their day. There was a listener in New Zealand for whom the book was their wake-up routine, lots of UK listeners doing it as an evening wind-down, and some people in the US (I have no idea when they were listening!). So, as I neared the end, I suggested to them that maybe we could carry it on beyond the book and there was a lot of emoji nodding."
"I toyed with the idea of trying to write a new book, but realised that publishing each chapter as I wrote would be a nightmare in terms of adapting structure and developing a full story properly, so I came up with another audience involvement idea."  
"First, I ran a Twitter poll asking where people would like the first chapter to begin. The winning option was Bath, but there was some confusion as to whether that was a bath or Bath so we plumped for a bath in Bath! I wrote a chapter and then read it aloud on Monday night. We had a great time, and, at the end of the chapter, I asked listeners to vote on why the main character had moved to Bath. They had until the next morning to vote and then I wrote the next chapter, which we read that night and I gave them another vote."  
"So, the idea is every day I write a chapter, but the plot is being propelled by their decisions in the overnight voting. It's fun and fresh and communal. There's always a lot of chat and interaction in the live comments as I'm reading and it's turning into a fun little club."
Lexx has recently signed with agent Diana Beaumont at Marjacq for literary work so we may well be seeing the results of this innovative interactive process in the near future...
See Laura Lexx's original story here
Picture: Kara Gowlett