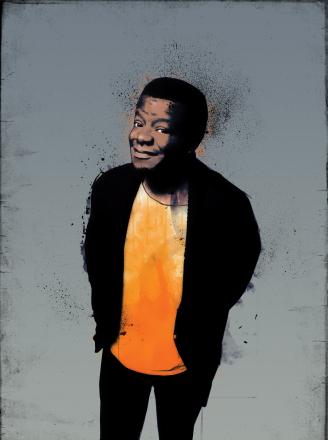 Audible, the world's leading provider of spoken-word entertainment, has secured worldwide English language audio rights to I Used to Say My Mother Was Shirley Bassey, the hilarious memoir by comedian Stephen K Amos, narrated by Amos himself. 
Poignant, funny, and with the narrative gift Stephen is famous for, I Used to Say My Mother was Shirley Bassey is a memoir of a life fitting in, standing out, and (almost) always laughing. It will join a number of other highly popular Amos titles on Audible, including The Stephen K Amos Talk Show podcast. The audio edition of the memoir will be released exclusively on Audible on 30th April 2020, and is available to pre-order here.
I Used to Say My Mother Was Shirley Bassey explores Stephen's chaotic upbringing in the carnival atmosphere of the late '70s and early '80s. Growing up in a large Nigerian family in South London, Stephen learnt early on to find the humour in every situation.
He describes his awkward beginnings as the only black kid in his class, where he told everyone his mum was Shirley Bassey to break the ice. Then, as a middle child in a large family, Stephen learnt stage presence by vying for attention and performing at family parties. Now a world-renowned comedian and performer, regularly selling out venues like the Hammersmith Apollo, Stephen looks back at his earlier life and the incidents which shaped him and continue to inspire his performances. 
Stephen K Amos commented: "Absolutely delighted to have my dulcet tones reading out loud, my very own words, from my very own audio book.  I want you to laugh, shout and be moved as we go through my book together. Huge thanks to Audible, a pleasure to be amongst so many wonderful titles and a superb platform."
I Used to Say My Mother Was Shirley Bassey will be available for 1 credit to Audible members or priced at £14.99 for non-members. It joins a plethora of comedy audiobooks on Audible, including: David Mitchell's Dishonesty is the Best Policy; What Seems to be the Problem with Adam Kay and Mark Watson; Ayoade on Top by Richard Ayoade; The Dark Tourist by Dom Joly; and Audible Live from the Edinburgh Festival Fringe 2019, featuring performances by Iain Stirling, Britain's Got Talent winner Lost Voice Guy, Stephen K Amos, Nick Helm, Tiff Stevenson, Zoe Lyons and many more.