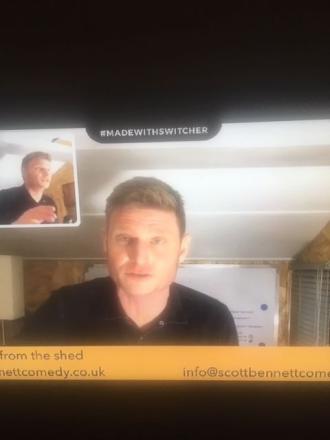 I must be getting live comedy withdrawal symptoms, I dreamt about being at a Stewart Lee gig the other night. Still maybe help is at hand. Comedians have been quick to get stuck into the online world with Robin Ince pulling in a lot of friends for a veritable online Comedy festival next week. But first out of the blocks was Scott Bennett, who last night broadcast a live one hour stand-up set from his garden shed via his Facebook page.
I've seen Bennett in Edinburgh and I've never understood why he has not become a bigger name. He's a totally mainstream comedian, but in a good way. His material is about having kids, his wife, his jobs, growing up, the kind of things most people can relate to. If Jason Manford, John Bishop and Micky Flanagan can fill arenas I don't see why Bennett can't at least get a spot on Live at the Apollo. So far his biggest gigs to date have been supporting Rob Brydon on tour.
In the meantime the Nottingham comic has started out with Live at the Shed, which he plans to do every week during the crisis – "One man's pandemic is another man's career break." He built his shed a couple of years ago and works in there so, as he joked at the start of his gig, he was self-isolating long before it was trending. This was no ordinary performance though. His audience consisted of his wife and his young kids, although I think they might have got bored and left at some point. Tough crowd.
Although his wife sounded like one of those "loud laughers" you get at every gig (though this may have been because she was the only laugher), it was strange watching a comedian do some great material and the main responses were not vocal, but hearts and smiley faces floating across the page. Bennett quipped into his hairbrush mic that this small crowd would not put him off his stride, it was not the first time he had done a gig without anyone laughing.
His material was clearly pretty new and topical. He kept glancing down, possibly to read the script, possibly to count the smiley faces floating around onscreen. There were some great gags about the crisis - I liked his riff about "freezer eat down" and he had a brilliant joke about how things were getting so desperate he was a fortnight away from eating the fusilli off his daughter's school art project.
While other material traded heavily on domesticity and nostalgia - dad being a gold member of Costco, winning goldfish at the fair, talking to his parents on the phone mid-act –  the whole thing had a slightly weird futuristic, steampunk post-apocalyptic vibe. It was certainly no ordinary stand-up show. Watching from home I had a strange urge to heckle – or at least post comments on his FB page – which I never normally have at gigs, so there was an unexpected interactive element to it. It was also easy to get distracted. A mention of wondering what MC Hammer's real name was had me – and no doubt others – rushing to google to find out the answer*.
There were a few technical hitches with the screen freezing, prompting comparisons with old school comic Norman Collier, who was famous for his broken mic delivery. But overall it was a success. Up to 500 fans were watching it live – already probably the biggest audience for a solo Bennett gig.
And judging by the shares and the thousands watching it on catch-up, when the live circuit returns I expect it is really going to help Bennett get more people actually buying tickets for his shows. Online stand-up will never replace flesh-and-blood stand-up but if it is a way of getting people to go to flesh-and-blood stand-up clubs it's got to be a good thing. 
Watch his first show here. His next gig is Thursday, March 26 at 8pm on his Facebook page.
Oh and there is a virtual bucket collection. If you enjoyed the show, you can stick a contribution via paypal to: [email protected]
Also Scott Bennett's new live album, One Night In Dudley, is available here.
Picture: © Bruce Dessau
*Stanley Kirk Burrell