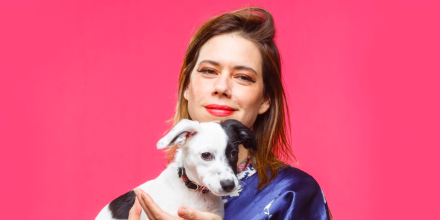 Dave's hit podcast Conversations Against Living Miserably is releasing two special episodes to help people stuck indoors amid the nation's health crisis forcing many to work from home and self-motivate. The podcast focuses on how funny people deal with sad times so what better way to bring back some of the series guests to try and help people deal with their new normal.
Episode one is available now (here) and has special advice from Jenny Éclair, Lou Sanders (pictured), Stuart Goldsmith, Jayde Adams, Darren Harriott, Sarah Keyworth, Jessica Fostekew, Richard Gadd and Matt Richardson.
Episode two will be available on Monday with contributions from Ahir Shah, Pippa Evans, Bryony Kimmings, Catherine Bohart, Alfie Brown, Elf Lyons, Dane Baptiste, John Robins, Sophie Duker, Steen Raskopolous and Maisie Adam.
The podcast, currently in its second series, is part of a long-term partnership between UKTV's leading comedy channel Dave and the male suicide prevention charity, Campaign Against Living Miserably (CALM).
The weekly 30-minute podcast launched last year and all episodes are available on iTunes, Spotify, Acast, Soundcloud and Audible. It's hosted by award-winning comedian Lauren Pattison and mental health author Aaron Gillies, also a CALM Ambassador and the voice of Dave on social media. 
Each episode features comedians, including Matt Richardson, Elis James, Darren Harriot, Rose Matafeo, Cariad Lloyd and Jamie Demetriou talking about how they fight against living miserably and find a moment of calm.
All episodes can be listened to here: https://podcasts.apple.com/gb/podcast/conversations-against-living-miserably/id1461758552
Dave and CALM's partnership campaign, titled "Be the mate you'd want," centres around the idea that small gestures from a friend can be a lifeline for someone going through a tough time. It launched on the 26th November 2018 with a four-minute ad break takeover voiced by comedian James Acaster. At 9.08pm, one minute before the takeover, the channel saw a 73% increase in adult viewers tuning in. 147% more 16-34 year olds tuned in and specifically, 162% more men aged between 16-34. There were TV, print and radio ads, all with the aim of encouraging people to do something to show a mate that they're there for them.
The partnership continues with its first linear commission Comedy Against Living Miserably.  The first of the three-part series airs on Tuesday night at 9pm, hosted by Joel Dommett with sets from John Robins, Judi Love and Kiri Pritchard-Mclean between heart-warming and frank discussions about mental health.