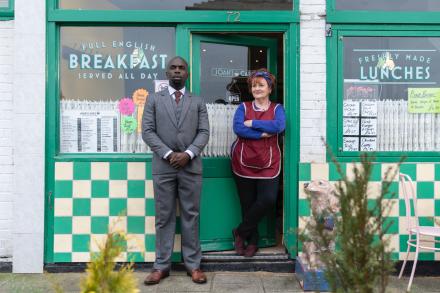 ITV has had a pretty tortuous relationship with mainstream sitcoms over the years. Look at any All Time Greats chart and their only one that regularly gets into the upper echelons is Rising Damp. In recent years the channel seems to have shuttled between totally giving up on sitcoms and really trying hard. A few years ago it looked like they might have had a chance of a big hit with Jack Dee in Bad Move. It did OK but couldn't quite manage Leonard Rossiter levels of traction.
So here they are again having another bash in the same midweek slot, this time with Brenda Blethyn as seaside cafe owner Kate and Jimmy Akingbola as an asylum seeker (they don't specify the country) who is a qualified doctor but not allowed to work so spends all of his days nursing a cup of tea in her establishment. Remember Rigsby and Philip? Maybe there's a whiff of Rising Damp here too. 
Both are excellent actors and the set-up has the makings of a very contemporary odd couple comedy. They inevitably start off on the wrong foot – Kate quickly says that there are four things she doesn't like – scoroungers, doctors, foreigners and posh people "and he's all four". Can they work out a truce?
A Guardian article has suggested that "At worst, it brings to mind the offensive stereotyping of Love Thy Neighbour," but actually it is not as bad as that. Surely the point is that Kate starts off prejudiced but then goes on a learning curve. I'm not expecting them to get married in the final episode, but even at the end of the opening instalment they are certainly seeing something positive in each other. He is soon running an unofficial surgery in her cafe, giving him job satisfaction and Kate more customers.
The problem – apart from the intrusive sound of seagulls – is more to do with the basics of the script, which is a surprise given that it's written by Guy Jenkin and Andy Hamilton, who were behind Drop The Dead Donkey and Outnumbered. While there are certainly funny gags there are other lines that don't ring true. Would an old school cafe owner really say "You self-identify as a lazy person"* or mention go-pros?
In fact one of the biggest laughs comes when Kate's nephew Medium (don't ask...), played by Blake Harrison, tells that ancient joke about a patient who goes to the doctor thinking he's a moth (he keeps getting distracted by the light...). Medium is an odd character, he looks like a workman but knows about epidemiology and can do cryptic crosswords. Methinks there is more to him than meets the eye.
Kate & Koji will inevitably be compared to those other recent asylum seeker comedies, Home and Don't Forget The Driver. Sitting here in my self-isolated metropolitan elite bubble it is easy to say it's not as good as those. But it's ITV1, it's at 8pm, it has a studio audience (the raucous laughter is not canned) and it has to be more direct. And it does try to be political and topical in a Good Way. It's not brilliant, but I'd like it to do well. Somehow, though, in post-Brexit Britain I can't see it being a mainstream hit, though I'd love to be proved wrong. Whatever the Guardian might say I think it's heart is in the right place.
Kate & Koji, Wednesdays for March 18, 8pm, ITV1.
Picture: ITV
*Edited to say "lazy person" - it originally said "lady person" . The joke makes more sense but I still don't think Brenda Blethyn's character would use the phrase "self-identify".