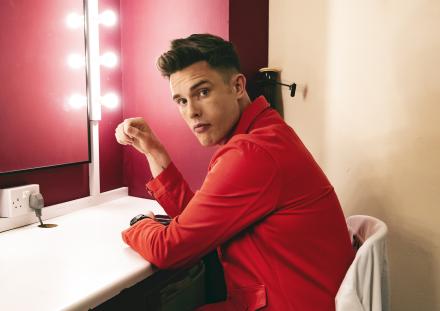 Spotify has announced the release of its latest eight part Spotify Original podcast, 'Lifers'. Available weekly on Thursdays from 19th March, the exclusive series is hosted by one of the UK's brightest comedians and podcasters, Ed Gamble as he talks all things heavy metal with some of the genre's biggest names.
With a self-diagnosed "Coldplay face", Ed Gamble's seemingly unlikely obsession with heavy metal music may come as a surprise to many. Forged in the sweaty, beer-soaked mosh pits of countless gigs and obscure web forums, Ed's fascination with the genre has made him a highly regarded connoisseur.
During the course of the series, Ed will embed himself with a host of quintessential 'Lifers' who have given their whole identity to metal. His journey will see him talk with some of the genre's most iconic names including Cradle of Filth's Dani Filth, Diamond Head's Brian Tatler, Grim Reaper's Steve Grimmett and more. 
Ed will drink, mosh, get tattoos and launch himself into the 'Lifer' community, their psychology and find out what they've sacrificed along the way. With added insight from the Lifer's nearest and dearest, the end result is a fascinating and inspiring glimpse behind the heavy metal curtain. 
Ed says, "Despite looking like a Christian, I am metal to my molten core. The opportunity to meet so many ironclad legends of the scene, and find out what keeps them battling through it all, was a massive treat. I can't wait for metalheads and normalheads alike to hear what we've managed to capture. To be fair, I don't make myself look more metal by using phrases like "massive treat" do I?"
Spotify Original podcast featuring host Ed Gamble is available exclusively on Spotify from 19th March 2020.