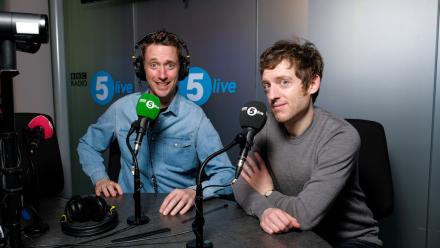 Elis James & John Robins' Radio 5 show has been a big winner at The Radio Academy Awards, known as the Arias. Their Friday show was the Gold Winner of the Funniest Show at the awards this evening.
Second - Silver Prize – in the category went to James Veitch for his Radio 4 Contractual Obligation Show. Bronze went to Chris and Rosie Ramsey's podcast Shagged, Married, Annoyed.
Elis James tweeted the news of the victory: "Absolutely delighted. John has had six pints and I haven't, so the speech was tonally quite mixed. Thank you to everyone for listening, and thank you to @JessTemby, @Masterman, @musty74 and everyone else who makes the show happen. I WANT LISTEN THIS RUBBISH!"
Robins tweeted: "Thank you so much to all of you. This is for you! #UKArias."
Elsewhere comedian Toby Foster won Gold in the Best Speech Breakfast Show category for his BBC Radio Sheffield show and Jacob Hawley won Silver in the Best New Presenter category for his BBC Sounds podcast Jacob Hawley: On Drugs. Frank Skinner won Bronze in Best Speech Presenter for his Absolute Radio show.