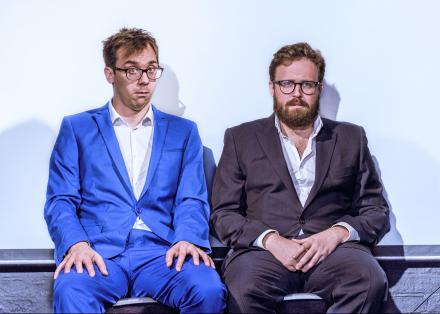 Edinburgh Comedy Award nominee Mat Ewins (Harry Hill's Clubnite, Live from the BBC) has joined forces with double Edinburgh Comedy Award winner John Kearns to launch brand new podcast called Microscope.
In each episode the pair attempt to explain the unexplainable and solve some of the world's biggest mysteries – from an obscure theme park that appears to be haunted to a gym that's been infiltrated by wizards – with Ewins interviewing Kearns in the guise of a different character each week.
Mat Ewins said: "I'm very excited to be part of the most important advances in broadcasting since the invention of shouting. Having dedicated my time to producing meticulously planned and edited videos it seems entirely appropriate to move into a free form audio only environment. As a huge fan of mysteries, I'm thrilled to be working with Kearns as we try to get to the bottom of UFOs, Ghosts and – in episode 6 – a baffling story about a farmer kidnapped by penguins."
John Kearns said: "Having campaigned tirelessly for truth and justice throughout my career, this podcast is a life's work. Sadly, I couldn't make any of the recordings owing to numerous burst pipes* over the winter months, but I am glad that these riddles and bullsh**ting charlatans have been put to the sword by Chief Inquisitor Mat "One T, I'm driving" Ewins. During the difficult and laborious process of listening back to these interviews (something I recommend you do), it's crystal clear that the guests are making things up as they go along and have no regard for victims or indeed plot. I hope the legacy of this podcast is that it shows no mystery, however strange, can go unresolved and yet, just occasionally, there can be a hell of a lot of smoke without fire."
 
Microscope launches on  Friday 13th March and a trailer is available to listen to now on  Apple Podcasts,  Acast and  Spotify. The podcast is recorded in front of a live audience – for future record dates follow @MicroscopeFun.
Microscope is produced by  Plosive Productions – the team behind podcasts  Off Menu with Ed Gamble and James Acaster,  Nobody Panic,  The Rob Auton Daily Podcast,  Cuddle Club with Lou Sanders and  Audible Presents.
 
Microscope is available on
Picture: Paul Gilbey (and yes, that is actually Mat Ewins on the left)