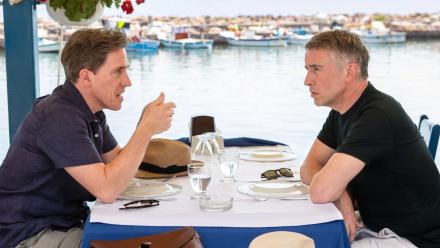 It's the fourth series of The Trip and this time Rob Brydon and Steve Coogan have gone all Greek on us, retracing the footsteps of Homer's Odyssey, albeit with better cuisine.
I was really looking forward to this series, once again directed by Michael Winterbottom and also starring Claire Keelan as their long-suffering fixer, and the opening scene has a couple of excellent jokes about Brydon's dislike of camping. The portents seem good, but somehow this early exchange is the high point of the scene-setting episode.
As the duo settle into their gourmet meal in a beautiful garden in Turkey (don't ask, but if you must that's where the Odyssey started) the banter begins. I'm sure there has always been plenty of sniping from Brydon but there seems to be more than ever this time, from joking that he is Coogan's carer to mocking Coogan's anecdote about attempting to read a book in his massive garden and being disturbed by flies.
Of course there is lots of fun to be had watching them do their now trademark impression-offs. But even here Brydon can't resist a dig at Coogan's Stan Laurel. Things are on safer ground when Brydon does his Ronnie Corbett or Roger Moore take-offs. It's an indication of how long the programme has been going – nearly ten years, almost as long at the Odyssey – that both Corbett and Moore have died since they started their gastro-journeys,.
The first episode feels slightly off balance for other reasons. There is a potential serious subplot about visiting a refugee camp which doesn't build. Maybe it will come into play later on but at the moment it seems under-developed.
And then there is the question of the meta-comedy-playing-themselves aspect. As alluded to earlier, there is the usual chat about ageing, their relative success and their contrasting careers - Brydon as the light entertainer, Coogan as the serious actor who suggests he aims to get under the skin of his characters more than merely getting their voices right. We've been here before and I'm not sure if anything fresh is added - they even do a well-worn riff on what the newspaper headlines would be if they died in an accident and someone more famous also died. 
Another odd thing is what it missing. At the end of the opening episode they set off on a boat. Apart from the fact that they sing an excruciating version of Rod Stewart's Sailing, given that the series often touches on their genuine work, how come they are crossing the Mediterranean and they never mention Rob Brydon's cruise adverts? Maybe there are contractual reasons, maybe they've made gags about it before, but given that there are a plethora of quips about their oeuvre elsewhere it is strange that they skip this target.
Perhaps I'm being too picky and I'm disappointed because I was looking forward to this so much and I care so much about it. Though maybe this series has been overshadowed by the slightly stylistically similar but much more good-hearted Mortimer and Whitehouse fishing series. It is always fun to spend time in the company of the incredibly talented Coogan and Brydon, but in this instalment they do not quite match their previous highs. Hopefully they will scale that Olympus later in this series.
The Trip To Greece, Sky One, from Tuesday March 3 at 10pm.