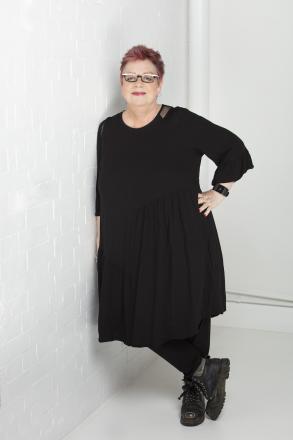 Jo Brand is to front a special night in memory of much-loved actor, writer and activist Helen Griffin. 
Brand will be joined by friends to pay homage to Jo's friend Helen, who passed away in 2018. The gig will take place in Swansea, which was Helen's hometown, on March 31.
The line-up at the Grand will include fellow stand-up Andy Robinson, who has worked with Jo for over ten years, veteran Welsh comic Noel James, and more guests to be announced. 
Having known each other since psychiatric nursing college, Helen and Jo became lifelong friends as both their careers moved into the sphere of entertainment. In 1997 they collaborated on the short play Mental (based on their nursing experiences), which went on to be performed at the 2003 Edinburgh Festival Fringe, and in 2013 they worked together on the hospital-based BBC 4 sitcom Getting On – which was followed-up by Going Forward on the same channel in 2016.
Jo Brand was deeply saddened by Helen Griffin's untimely death two years ago, and moved to organise this evening in her memory. She would like to remember the huge talent and brilliant friend that Helen was, as well as her impact on the world of writing and performing – in the best possible way: with laughter and warmth.
Proceeds will go towards supporting a young actor in training.
TICKETS: www.swansea.gov.uk/JoBrandBooking