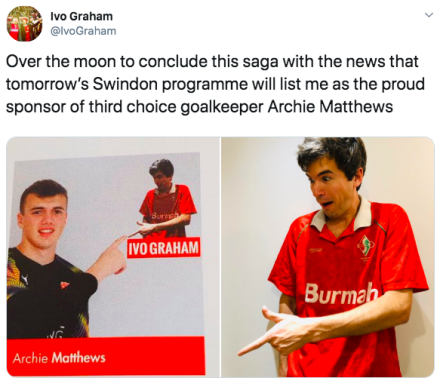 When devoted Swindon Town fan comedian Ivo Graham spotted that it was possible to sponsor individual players in his beloved team it was an opportunity that he deemed too good to miss. 
By the time he tried to seal the sponsorship deal, however, there weren't many first-team regulars still available, but he managed to bag one of the goalkeepers Archie Matthews, who is pointing to his stand-up supporter in the picture here. This once-in-a-lifetime event will feature in the programme this Saturday, January 10, when Swindon play Crewe at their County Ground.
Graham announced the scoop on Twitter: "Over the moon to conclude this saga with the news that tomorrow's Swindon programme will list me as the proud sponsor of third choice goalkeeper Archie Matthews."
Graham has his own gig in Swindon on May 31 when he will be playing the Arts Centre. See his full tour dates here.
Picture: Twitter