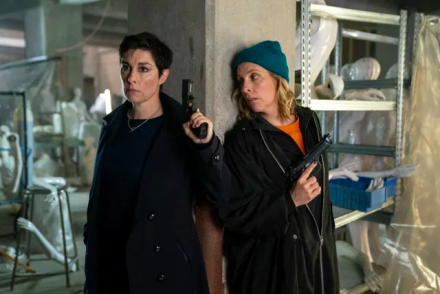 The first image has been released from the forthcoming comedy Hitmen, which reunites double act Sue Perkins and Mel Giedroyc.
This is Mel and Sue's first scripted comedy series, being made for Sky by Tiger Aspect.
Hitmen is a six-part original comedy about two best friends trying to make their way in the world with only each other to rely on. They also just happen to kill people for a living.
Having stumbled into a career in contract killing, misfits Fran and Jamie (Sue Perkins and Mel Giedroyc) are not your typical killers for hire. Working out of their scruffy van, each episode follows the hapless duo as they try to carry out their latest hit, inevitably derailed by incompetence, bickering, and inane antics. As each hit goes south, our (anti)heroes are thrown into one bizarre misadventure after another, each full of oddball characters and unexpected dilemmas. 
Across the series, as the mishaps – and bodies – rack up, Fran and Jamie's friendship is put through the wringer: while affable goof Jamie seems content to spend her days hanging out with her best mate, the more sensitive Fran starts to question whether it's really the life she wants. Will their friendship survive their trials and tribulations? More to the point, as the jobs get increasingly dangerous, will they even survive?
Executive producer Myfanwy Moore said: "We are so excited to be working with the truly fantastic female comedy partnership that is Mel and Sue, who can brandish bullets and banter brilliantly in equal measure."   
Sue said: "I'm delighted to be part of this project, I can't wait to sit for months on end in a hot van with my old, flatulent, double act partner."
Mel added: "It's THIRTY YEARS AGO that I met Sue Perkins, and we had happy times together playing ridiculous characters, then spent hours in a fetid van in order to release them around the country. Essentially nothing has changed in the Mel/Sue collective. And that's a great comfort." 
Hitmen is written by Joe Parham and Joe Markham. They said: "We can't believe that something which has been knocking around inside our heads for so long has been brought to life by two of the funniest people in the country, along with a load of our other comedy heroes."
Morwenna Gordon, Commissioning Editor, Sky Comedy, said: "We are thrilled to have Mel and Sue back on our screens, in their first ever scripted comedy series. We have a brilliant cast, featuring many well-known faces, in a number of unexpected and potentially life-threatening circumstances that Fran and Jamie find themselves in along the way. Joe Parham and Joe Markham have created a world that's ruthless, funny and heart-warming all at the same time. The series joins a host of fantastic Sky original comedies we have coming to Sky One next year which we can't wait for our audience to enjoy."    
Hitmen comes to Sky One in Spring 2020.
Picture: Sky