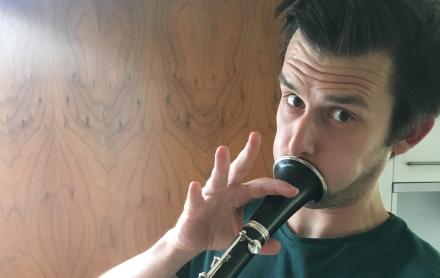 Orchestras for All, the innovative music charity which gives 11-18 year olds with complex lives the opportunity to access the life-changing experience of ensemble music-making, brings its fundraising event Musical Chairs to Westminster School in London on Saturday 16 November. For one day, only members of the public who have taken on the challenge of learning a musical instrument in just eight weeks, will rehearse and perform alongside young musicians from the National Orchestra for All. Putting the novice players through their paces will be internationally acclaimed conductor and Head of Conducting at the Royal Academy of Music Sian Edwards.
Three times Edinburgh Comedy Award nominee and star of hit BBC comedy Two Doors Down, Kieran Hodgson will be joining participants from all over the country preparing to play in a real-life symphony orchestra, this year learning the clarinet from scratch. Kieran has been busy practicing and fundraising to help the organisation reach a record-breaking £20,000 in celebration of their fifth year of the event.
Hodgson says: "Discovering music is a never-ending experience: there's always a new piece to hear, a new musician to meet and, crucially, a new instrument to play. Musical Chairs gives amateurs and no- hopers like me the chance to explore the whole range of orchestral playing – even in my third year of taking part. I've been a supporter of Orchestras for All for a number of years and I love their determination to show that classical music is classless, that playing in an orchestra should be open to everyone and that music-making has benefits for young people and schools that go far, far beyond the rehearsals and the concert. Music might at times seem like a luxury but it is an essential component in all education and all human experience. Thank you, Orchestras for All for demonstrating that over and over again."
Musical Chairs raises money for Camden-based Orchestras for All, one of the most innovative young charities in the UK today. Since Musical Chairs started in 2015, it has raised over £65,000 for the work that Orchestras for All does in providing access to ensemble music-making for young people with challenging circumstances, including disabilities, socio-economic deprivation, rural isolation or physical health conditions.
Executive Director Stuart Burns said "Every year Musical Chairs has grown bigger and better, and this year for our fifth anniversary, we're very excited to be performing in the beautiful setting of Westminster School. All of our 48 participants have worked so hard, getting to grips with their instruments, learning their music and fundraising. The extraordinary young people from the National Orchestra for All will become our experts for the day, supporting our novice participants for the day. We're so grateful for everyone taking part and can't wait for what is likely to be a rather unique performance!"
Orchestras for All believes that music has the power to change lives and wants music to be accessible to all young people aged 11-18 whatever their circumstances. The charity provides opportunities for young people with complex lives to rehearse and perform in a unique national youth orchestra (the National Orchestra for All) completely free of charge and without audition. It also runs a national schools programme and provides ensemble leadership training across the country for teachers and community music leaders. Since 2011 the charity has worked with over 2,000 young people, supported over 75 music teachers and community music leaders and created over 25 arrangements of specially-created music for mixed skill level ensembles.
[email protected] | www.orchestrasforall.org | 0207 267 4141
Orchestras for All is registered with the Charity Commission in England and Wales (1150438)
Westminster School, Deans Yard, London SW1P 3PB, Saturday 16 November, Rehearsals 10:00 to 15:30, concert at 16:00 featuring Verdi's Anvil Chorus and an arrangement of a traditional Ghanaian song, 'A Keelie Makolay'.