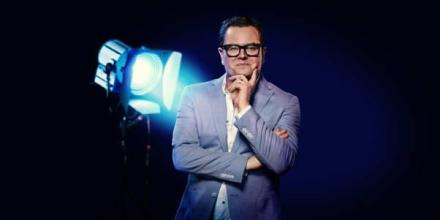 Alan Carr is to host a special show starring Kylie Minogue in which an audience of Kylie fans did not know they were going to see the star.
Kylie's Secret Night, produced by BBC Studios, will allow viewers to celebrate with Kylie like never before. The 90-minute programme, filmed in front of an audience of passionate – and unsuspecting – fans will see a specially invited audience arrive for what they believe is a Kylie-themed fan extravaganza hosted by Alan Carr. Little do they know they're going to be spending a secret evening with the lady herself…
Over the course of the show Kylie will treat her guests to the ultimate thank you through heartfelt and hilarious conversation with Alan, memorable performances, surprise money can't buy gifts, hidden camera VTs and laugh out loud stunts.
Throughout the episode, we'll hear from a cross section of Kylie fans who will regale her and the audience with moving, uplifting and heart-warming tales of how she's touched their lives including inspirational Barnsley music teacher and superfan Simon who runs Kylie music classes for adults with learning difficulties. He got the shock of his life recently when a surprise guest made at an appearance at one of their rehearsals. 
Some very special fans will be joining Kylie on the night including a select group of people who've been named in homage to her and some very shocked people will also be taking a cab share trip like no other.  
Encouraged to do so by Alan and the audience, Kylie will also reveal which of her tracks is her personal favourite and there may well be some surprises of her very own in store too.
Immediately after the show Channel 4 will be showing the UK television premiere of Kylie's smash hit Golden tour. Packed full of incredible hits, spectacular visuals and fabulous choreography, we'll see just why she's the original pop princess.
Kylie Minogue said, "This was such an incredible show. It made me laugh, it made me cry. It was like time stood still and I was able to hear some amazing fan stories, reminisce and really take stock of the journey we've been on together. All in all, a wonderful celebration, and a reminder of what a privilege it is to be able to connect with people over time and borders and to inspire me to do it all again!"
Steven Handley, Commissioning Editor for Entertainment at Channel 4 added, "Kylie Minogue is the ultimate pop icon and we couldn't be more chuffed to be working with her and Alan Carr on what promises to be appointment to view television for fans and viewers alike. You'll laugh, you'll cry, and you'll definitely sing along – there really will be something for everyone."
Lee Smithurst, Series Editor at BBC Studios said, "We're delighted to be collaborating with Kylie on what promises to be a must-see extravaganza. The combination of pop music royalty and Alan Carr means Kylie's Secret Night will be a fantastic night of music and comedy.  As well as performing some of her most memorable hits and getting up close and personal with her biggest fans, we'll also get to see Kylie like never before as she fools unsuspecting members of the public with some entertaining hidden camera pranks."
Kylie's Secret Night is a BBC Studios production and was commissioned by Steven Handley, Commissioning Editor for Entertainment at Channel 4. The Executive Producer for BBC Studios is Kat Lennox and the Series Editor is Lee Smithurst. Kylie's Secret Night will TX later this year on Channel 4.
Alan Carr is currently hosting the second series of film quiz There's Something About Movies (pictured) on Thursday nights at 9pm on Sky One.
Kylie's Secret Night, Christmas Day, 10.30pm, C4.