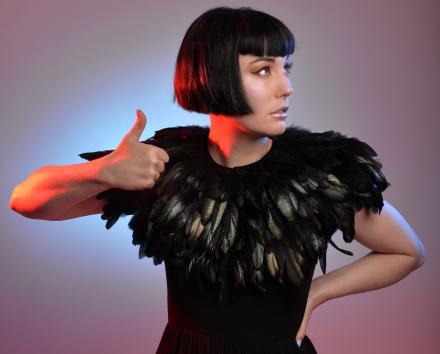 Bec Hill's Edinburgh Fringe show I'll Be Bec is to be the first stand-up comedy show to be added to the archive of LIVR, the world's first virtual reality streaming service for theatre and the performing arts.
LIVR allows anybody with a mobile phone or VR device to enjoy great live performances at home, on-demand, in fully immersive 360 degrees - just like they were sitting in the audience.  
Hill explains that because The Arts Council is yet to recognise stand-up as an art form eligible for Arts Council funding the show is too expensive for her to tour on an independent budget as it requires an entire team to set up and help Hill perform it. This meant that the Edinburgh Fringe run was the last time she could afford to perform the show live. The only way to see it now is on the LIVR platform.
I'll Be Bec is Hill's eighth solo Fringe show but one she has planned for a long time. In it she travels to the future to reveal what life will be like there. Will the robots have taken over? The show includes props, special effects and Hill's trademark flipcharts.
Hill says: "I'll Be Bec is a show all about the future and our potential when it comes to communication and technology. So what better way to release it than via a platform filled with potential and the most advanced way I have encountered to communicate a live experience?"
I'll Be Bec is released on November 8.
LIVR has captured over 200 productions (and counting) and releases eight exclusive new titles to the platform each month. From brave new works by emerging artists to critically acclaimed productions across multiple genres and formats, there is something for all tastes. Browse all shows now streaming here.
Subscription if £6 per month at WWW.LIVR.CO.UK, then download the LIVR app for iOS (UK only) and Android (Global) devices via the AppStore (UK only) and Google Play Store (Global). LIVR is also available globally on Oculus Go via the Oculus Store, and will be rolling out to all other VR platforms very soon.
Picture: Steve Ullathorne