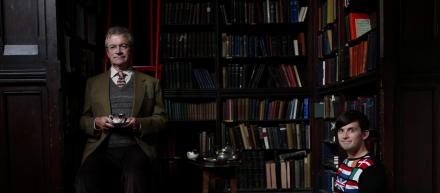 I presume this comedy-slash-documentary was scheduled for the late night slot on C4 on Halloween night because that was the point when Britain was scheduled to leave the EU. Well, one of the points anyway. As we now know, it hasn't happened yet, but C4 has put this out because, frankly, who the fuck knows what will happen in the next few months? 
How Europe Stole My Mum is largely and loosely based on character comedian Kieran Hodgson's Edinburgh Comedy Award-nominated show '75, which took a long hard look at Britain's prickly, complicated relationship with the rest of Europe. The problems, it turns out, go back a long way and give Hodgson ample opportunity to show off his skill for impersonating a few famous dead politicians and a few politicians not many viewers will have heard of.
The programme also features Liza Tarbuck as Hodgson's mum and Harry Enfield, who plays a helpful old librarian on hand to give Hodgson some background reading tips. Enfield also does some impressions – most notably 1970s Labour MP Roy Jenkins, whose actions prompted him to be called a "ratfucker" in Parliament, a reminder that personal abuse is nothing new.
But this is really Hodgson's programme. While the format is an uneven mix of autobiography, gags and factual documentary, the highlights are Hodgson's impressions. He does a mean Harold Wilson, Tony Benn and Enoch Powell – though obviously it helps if you remember them. 
But even if you don't recall these figures from history, what is fascinating is to see how GB always had difficulties with the continent. It sounds weirdly like an on-off romance at times. At one point we were desperate to join the Common Market but they didn't want us, then only a few years after we joined in the early 1970s the was a Labour-led Referendum to decide if we stayed in. Remain won that one. Who knows where we would be now if Leave had won back then....
How Europe Stole My Mum, C4, 11.05pm, October 31.