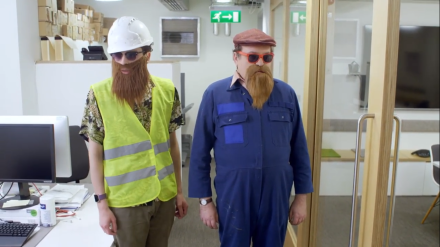 Last year Tiger Aspect gave Edward Aczel and Joz Norris some money to film a script they had written and performed at Soho Theatre. You can watch their short-film/sitcom-pilot/comedy-taster below – "a low-rent, mundane parody of heist movies like Ocean's Eleven in which two idiots try to plan an audacious heist to steal a vending machine."
It co-stars Lucy Pearman, Michael Stranney, Alison Thea-Skot and Ben Target. Norris says: "I'm really proud of it, it's the first time I've ever made something with the support and collaboration of a big production company who actually stepped in and asked me to make it, and I was bowled over that so many incredibly talented people would pitch in to help assemble something the two of us had dreamed up.
We're currently developing a TV idea that spins out from this, and apparently the more people that see and enjoy this taster, the stronger chance there is that we might get somewhere, so if you enjoy it please do share it around and tell your friends! I think it's really fun. Anyway, enjoy!"
It was produced by Murder In Successville's Avril Spary and directed by Jonathan Brooks, and it co-stars Lucy Pearman, Ben Target, Alison Thea-Skot and Michael Stranney. It's 
Watch Ed & Joz's Heist Movie below.