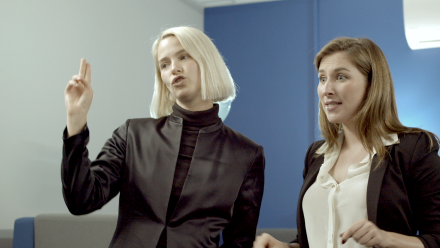 Update 2020: The first two episodes of Content will also be broadcast on London Live (FREEVIEW 8, SKY 117, VIRGIN 159, YOUVIEW 8) on 9th April, then two episodes on 16th April and the final two on 23rd April.
Content is a brand new sitcom launching online on 12 th  November 2019.
Based in the offices of "Content Content" - a digital content agency that no one, including the employees, can pronounce correctly. Each episode explores the team's attempts to create successful content for clients, whilst tripping over their own inadequacies and each other. The sitcom showcases Turtle Canyon Comedy's commitment to exciting talent and pushing new boundaries.
The first episode of Content will be released on 12th November, then one every Tuesday for six weeks. Would that it were so simple. In the world of Content, vlogging, virals and podcasting are ever-present and so on Wednesdays, episodes of the fictional "Girly Boss" podcast will be released. On Thursdays, there will be spin-off sketches exploring characters' home lives and sub-plots in greater detail and on Fridays, there will be reaction vlogs from characters seen in the series. It's the start of the "Turtle Canyon Extended Universe" (not trademarked), with characters from other Turtle Canyon Comedy shows guest starring and crossing over (Charity Starts At Home, The Human Resource, Under The Tweets).
The core cast includes newcomer Belle Fage, Kath Hughes, Rajiv Karia, Molly McNerney and Yiannis Vassilakis rounded out by an exciting range of top comedy names including James Acaster, Joel Dommett, Mark Silcox, Kieran Hodgson, Annie McGrath, Sadia Azmat, Sikisa Bostwick-Barnes, Isabella Inchbald, Harriet Kemsley and Evelyn Mok. The series was written and created by Yiannis Vassilakis along with a writers room of Rhiannon Shaw, Sadia Azmat, Lorna Woolfson and Kenagh Babcock. The series was directed by Stuart Laws.
Yiannis Vassilakis the creator of Content says: "I initially conceived of Content as a way to put my experiences in the industry to some creative use, and have a little fun with it; hardly expecting it would turn into the extraordinary feat of creativity it has. Under Stuart's steadfast guidance and Turtle Canyon's unparalleled ability to so effortlessly assemble such an incredible cast, experienced crew, and innovative creative team, I couldn't be more excited about the end result."
Director Stuart Laws says: "By giving the sitcom spin off episodes, podcasts and vlogs - we managed to create characters which live and breathe away from the principal episodes. It was a great way to add running jokes that work in the main episodes but have extra pay-offs. Yiannis is a brilliant comedy writer and it's been an exciting project and a pleasure to work with such a talented cast."
Watch The Content Trailer below.