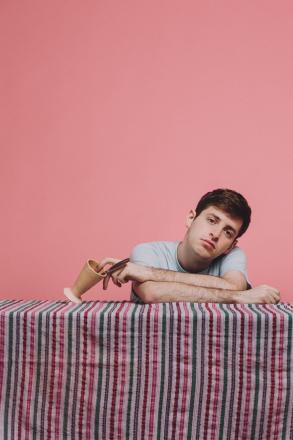 Boston comedian Alex Edelman has announced his first ever UK tour with his Edinburgh Comedy Award & Barry nominated show 'Just For Us'.  Awarded the prestigious Herald Angel Award, and garnering rave reviews 'Just For Us' marks Edelman's growth from promising newcomer to an artist lauded by fans and critics — on both sides of the Atlantic — as one of the best of his generation. 
The tour starts on 31st January 2020 at Salford's Lowry and culminates on 19th March in Guildford. There will be 27 dates, including a 6-night run at London's Vaults Festival 
'Just For Us' covers many different topics - Edelman's Olympian brother AJ, a surprising encounter with Prince William at the BAFTAs, his ADHD, what being "brave" means in this political climate, and a gorilla that can do sign language. These anecdotes are all given hilarious, unique space - but at its astonishing centre is one significant and unfortunately timely story. After a strong anti-Semitic strain of online abuse was directed at Edelman in January of 2018, he decided to covertly attend a meeting of those same anti-Semites in a New York City apartment. The result was an explosive confrontation that lends the show both a theatricality that has pushed (and blurred) the boundaries of standup… and gives 'Just for Us' its final, jaw-dropping twist.
Alex Edelman's first show Millennial won the Edinburgh Comedy Award for Best Newcomer. It went onto be recorded for a BBC Radio 4's stand-up special that was included within Radio 4's 'Pick of the Week' and chosen for Radio 4's 'Comedy of the Week'. The follow-up, Everything Handed to You - about identity and the availability of plug sockets in airports - was even more acclaimed: selling out its entire Edinburgh run and becoming the second-best reviewed offering of any comedy show at the Festival. It was also filmed in its entirety for a special called Live From the BBC, which is currently available on Netflix.
Edelman's comedy development began during his time at a religious seminary in Israel, where he was one of the founders behind Off the Wall Comedy Basement in Jerusalem. He cut his teeth in the New York comedy scene during college at NYU and was named by the New York Underground Comedy Festival as one of the city's 'Best Comedians Under 25' in 2008. After encouragement from Zadie Smith - one of his professors - to study in the UK, he was soon across the pond on a Royal Academy of Dramatic Arts programme, and took up residence in the British alternative comedy scene immediately after graduation.
Over the last three years he has split his time between the UK and America. His writing projects have included a pilot produced by Academy Award winner Diablo Cody and, most recently, a months-long turn in the writer's room for Jenji Kohan's Slutty Teenage Bounty Hunters which will be released on Netflix in 2020.  In the past couple of years, he was also a writer on 'The Great Indoors,' starring Joel McHale and Stephen Fry, which was extended twice for CBS in the United States and aired in its entirety on ITV2. After production wrapped, he returned to the UK to record a two-part series for Radio 4 entitled, 'Alex Edelman's Peer Group.' It was recommissioned for a second series at twice the length and a third series records in the UK in coming weeks. Last year Edelman made his late-night American TV debut on 'Conan.' He makes his second appearance tonight, alongside Edward Norton. 
Other TV appearances on Roast Battle and Alan Davies as Yet Untitled'. He completed high-profile support slots for Ricky Gervais' West Coast run, and opened more than a dozen shows for musicians like Beck and Ryan Adams on their recent US tours. In August, he was handpicked by Belle and Sebastian's Stuart Murdoch to appear on the band's Boaty Weekender, where he performed alongside Yo La Tengo and many other bands as the outing's lone comedian. 
Tickets go on sale at 10am on Thursday 31 October here.