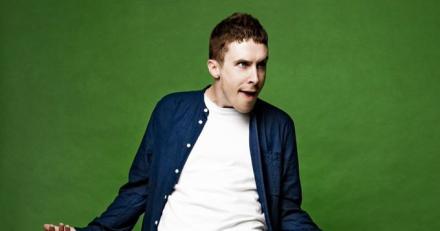 Scottish stand-up star Larry Dean is heading out on a major new tour in 2020 and will continue touring until 2021.
His latest show is called Fudnut. 
The tour starts at the Glee Club in Oxford on September 17, 2020 and currently finishes on March 20, 2021 at the Kings Theatre in Glasgow. 
Tickets go on sale on Friday 25 Oct 2019 at 11am.
Dates here: 
Thursday 17th September - 

The Glee Club

, Oxford

Friday 18th September - 

Cambridge Junction

Saturday 19th September - 

Royal & Derngate Theatre

, Northampton

Sunday 20th September - 

The Stables

, Milton Keynes

Thursday 8th October - 

Komedia

, Brighton

Friday 9th October - 

Hawth Theatre

, Crawley

Saturday 10th October - 

Hawth Theatre

, Crawley

Wednesday 14th October - 

West End Centre

, Aldershot

Friday 16th October - 

Bloomsbury Theatre

, London

Saturday 17th October - 

1532 Performing Arts Centre

, Bristol

Sunday 18th October - 

The Glee Club Cardiff

Wednesday 21st October - 

Henry Tudor House

, Shrewsbury

Thursday 22nd October - 

The Glee Club Nottingham

Sunday 25th October - 

The Leadmill

, Sheffield

Wednesday 28th October - 

The Glee Club Birmingham

Thursday 29th October - 

Gatehouse Theatre

, Stafford

Sunday 8th November - 

Exeter Phoenix

Friday 5th February - 

The Old Fire Station

, Carlisle

Saturday 6th February - 

City Varieties Music Hall

, Leeds

Thursday 11th February - 

Hot Water Comedy Club

, Liverpool

Saturday 13th February - 

Dancehouse Theatre

, Manchester

Saturday 27th February - 

Tyne Theatre & Opera House

, Newcastle upon Tyne

Wednesday 3rd March - 

Tivoli Theatre

, Aberdeen

Friday 5th March - 

Webster Theatre

, Arbroath

Saturday 6th March - 

Whitehall Theatre

, Dundee

Sunday 7th March - 

The Stand Comedy Club

, Edinburgh

Saturday 13th March - 

MacRobert Arts Centre

, Stirling

Sunday 14th March - 

The Stand Comedy Club

, Edinburgh

Friday 19th March - 

Carnegie Hall

, Dunfermline

Saturday 20th March - 

Kings Theatre

, Glasgow