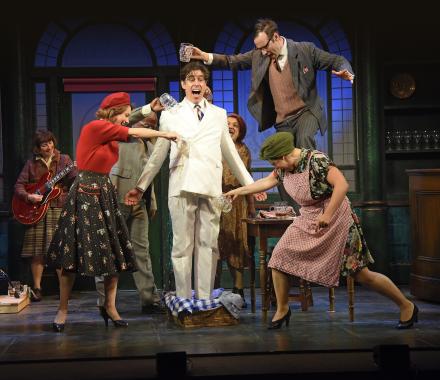 I was faced with a slightly awkward situation when it came to reviewing The Man In The White Suit. I couldn't get to the press night but had two tickets for the second night so invited a friend. Then in the morning I read the reviews, which mainly ranged from three stars to a rather mean-seeming one star in The Times. So what's the etiquette? Tell my friend not to come? Cancel my own ticket? Or be professional and go and book a nice table for dinner as pre-emptive compensation? I checked my bank balance and opted for the third option.
And do you know what, I could have saved my money on the dinner. We both enjoyed this stage version of the classic Ealing Comedy. We weren't blown away, it has to be admitted, but nor did we take the nuclear option of leaving in the interval.
Stephen Mangan stars as Sidney Stratton (played by Alec Guinness in the film), the well-meaning amiable boffin in an industrial mill town who invents a fabric that doesn't stain and doesn't ever wear out. So far so brilliant. Except that the workers soon face losing their jobs and if people only ever buy one suit the factory owners aren't going to be rolling in cash either. And spare a thought for the imminently destitute detergent manufacturers.
So there is a nice political strand to the piece, which this version, set in 1956 and directed by Sean Foley, brings up to date with gags and references to Brexit and Climate Change. There will never be electric cars, it is quipped, as they won't be able to travel any further than the cord that has to stay plugged in – that's pretty much the level of the humour.
Mangan puts his heart and soul and a lot of energy into the lead role, mixing some fun slapstick and skilful dance moves. Co-star Kara Tointon seems to be channeling early Margaret Thatcher's posh vowels as the industrialist's daughter who takes a shine to Sidney. I couldn't help feeling for them as they gave their all – particularly if they'd read the Times' review. It can't be easy gong onstage after reading that. 
And in fairness some of the less harsh reviews have a point. The production is a veritable hotchpotch of ideas. There's intermittently a skiffle band onstage punctuating the action with songs, but is this a musical? There's a weirdly sexy dance set-piece which seems to be there solely for Tointon to show off her Strictly Come Dancing chops. And some of the knockabout routines you can see coming from miles off. A pair of swords hanging on a wall aren't there for nowt are they?  
But, do you know what? Maybe seeing those mixed reviews worked in the show's favour. I went with  fairly low expectations and was perfectly happy with what I saw. It's a brisk two hours, it's jolly and it is impossible not to enjoy seeing Stephen Mangan's trousers explode during an experiment in the lab. There is also a nice puppet-based chase sequence through a Lowryesque backdrop, although I couldn't help thinking I'd seen something similar before. Maybe in the previous Ealing adaption directed by Foley, The Ladykillers? 
The result is a diverting night out that certainly deserves more than one star. And more than two stars. Beyond The Joke doesn't do stars outside the Edinburgh Fringe but if we did this would get three stars. Which we should add, isn't actually a bad review at all. Certainly worth seeing if you fancy an easy, undemanding chuckle. Just maybe not worth getting suited and booted for and making it your only night out of the week.  
The Man in the White Suit is at the Wyndham's Theatre until 11 January, 2020. Buy tickets here. 
Picture: Nobby Clark.