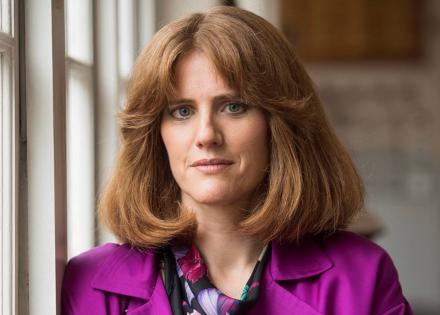 Live comedy and Radio 4 fans will know Sarah Kendall for her extended shaggy doggyish stories that may or may not be autobiographical. Frayed is similar and yet different. It's a much more ambitious series about someone forced to go back to their roots and confront their past. It's funny but one senses by the end of the first pisode, that maybe like those monologues, there is something darker lurking under the surface.
It is London 1988 and Kendall plays Simone, who is marrid to a ludicrously rich Englishman and has become posh in a Princess Di-meets-Dynasty way, all shoulder pads and big hair. But then her husband dies suddenly due to a mix of drugs, drink and having a mobile phone rammed up his bottom (and mobiles weren't small in 1988). There is a nice turn from Rufus Jones as the doctor who breaks the news. Worse news is to come, however, when the family solicitor (Robert Webb) informas Simone that her husband was massively in debt. Everything has to go (nice to see Paul Putner as a removal man doing the dirty work).
And so Simone goes too. Back to Australia where she was born. Her two children have to come out of boarding school and they all return to the small town of Newcastle near Sydney to live with Simone's mother. Fact fans might be interested to know that Kendall really is from Newcastle and it was filmed there. There is obviously lots of comedy to be had from the fish-out-of-water scenario, or rather the fish-having-to-get-back-in-the-water scenario. From the teenage offspring having to wear new school uniforms which include shorts to Simone – now reverted back to her real name of Samantha – hustling to get any job and meeting up with people who remember her before she reinvented herself.
By the end of the first episode Samantha has landed an office job with a local politician alongside Diane Morgan as pea-eating Fiona. Things are looking up, but only just. And an encounter with another figure from the past on the sports field suggests that there may be trouble ahead. It's not all laughs – some of the best laughs come via pop culture gags about The Thompson Twins – but there is more than enough that is funny and intriguing here to justify setting up a series link in your schedule. Oh, and the Anglo-Aussie cast is excellent, right down to a small role for Kerry Godliman as a prostitute with pubic lice. I'm itching to see more.
Frayed, Sky One, 10pm, Thursdays from September 26.