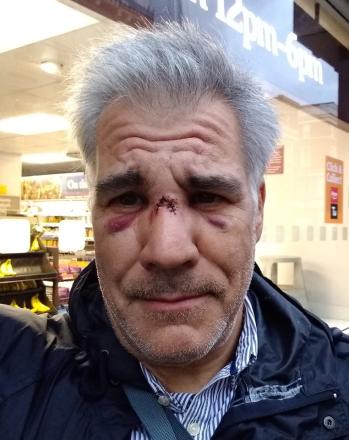 Comedian Lewis Schaffer is recovering after being punched in the street following an altercation while he was cycling in South London.
Schaffer, who a few days before had been to Kings College Hospital to have a heart scan, posted this pictured and explained what happened on Facebook.
"After telling off a driver who had nearly killed me on Gipsy Hill (her car almost pushing me off my bicycle and into a parked car) one of her passengers came out of her car and sucker-punched me, possibly with a rock in his hand. Seven stitches and a broken nose. I'm not as invincible, as I've been feeling lately. I'll still be beautiful when this heals, just a bit more rugged."
After the incident he found himself back at King's in the A&E department. "The help I got from King's A & E was brilliant. State of the art x-rays and top quality doctors. Only chink was the six hour wait to see them!"
He told BTJ: "The hardest part of being a London cyclist is not the dangerous situations we're placed in, it's suppressing one's desire to remonstrate with dangerous drivers. It feels good but London drivers have an inflated sense of entitlement and don't take kindly to be told they don't own the road."
Schaffer, 62, has a regular show on Resonance FM on Monday evenings at 6.30pm, entitled Nunhead American Radio. Listen here.
Update on the story here, where Schaffer also describes it as being "cold-cocked".
Picture: Facebook