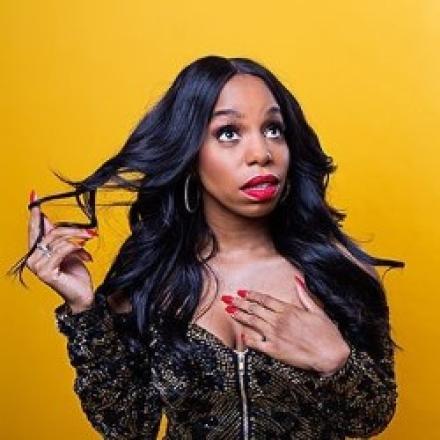 Dave' s Edinburgh Comedy Awards nominee London Hughes is to shoot a sitcom pilot in America.
The project is still largely under wraps but Hughes, who also appears in ITV2 panel show Don't Hate The Playaz on Wednesdays at 10pm, has told the Guardian that she will be working in Los Angeles with Larry Wilmore on a sitcom based on her own life. Wilmore has an impressive comedy track record - he appeared on The Daily Show for eight years and co-created the hit HBO show Insecure with Issa Rae.
In the Guardian interview she said: ""I wanna bring black British culture to America; the positive side to black British culture, none of this Top Boy stuff." Hughes has caused a debate on social media by tweeting about the return of the series Top Boy, which is now on Netflix.
Earlier this month she tweeted: "Ugh why did Drake decide to bring back #TopBoy ... if there's one show Black Britain doesn't need back, it's that! Oooh gangs, drugs, guns, baby-mum's! I'm sick of repeatedly seeing negative black stereotypes blown up on the big screen... Why Couldn't he bring back Desmond's?!" and "Black British culture is not just one way, there's more to us than grime and gangs and knife crime... just wish it wasn't always the same old story being told.. I'm over it, myself and many many black Britons can't relate."